Alfred Grasso Lon Chaney's 1st Mgr, Phantom Of The Opera Fame, Film Shorts+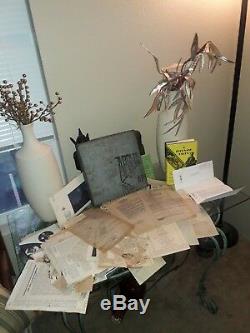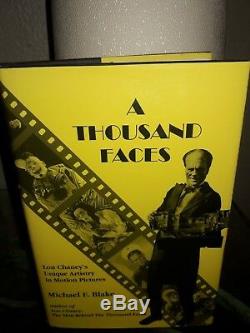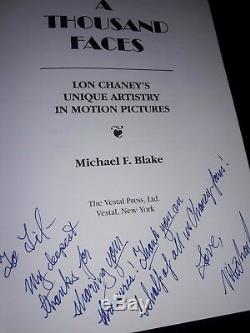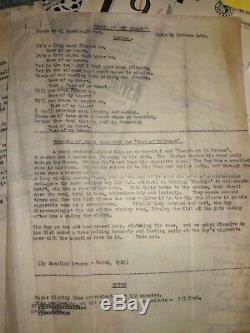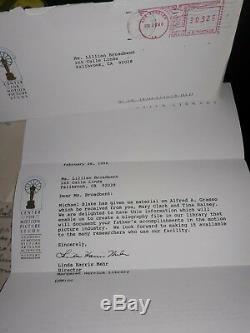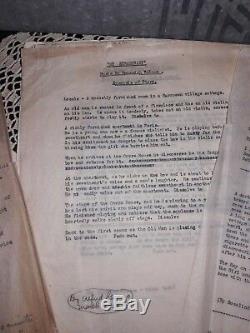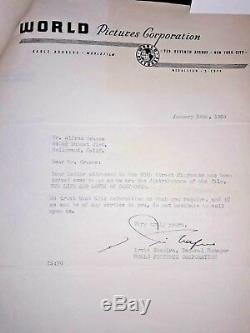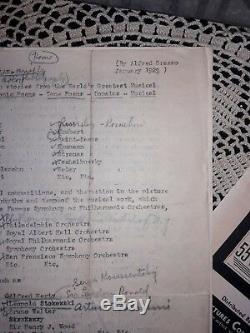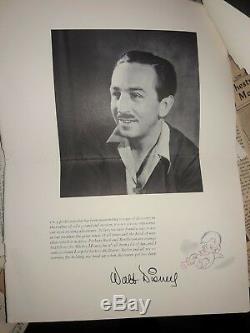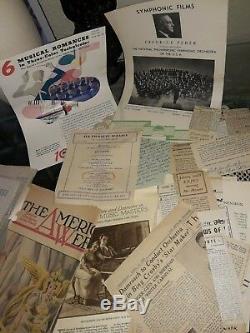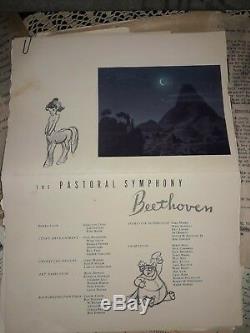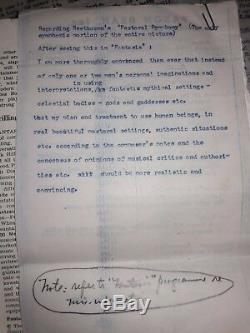 ALFRED GRASSO ALSO KNOWN AS ALFRED A. GRASSE WAS LON CHANEY'S (HUNCHBACK OF NOTRE DAME FAME) FIRST BUSINESS MANAGER. THIS IS A RARE, UNIQUE, AND ONE OF A KIND PIECE OF HOLLYWOOD AND AMERICAN MOVIE HISTORY. FOR THE LON CHANEY AFFICIANADOS, OR FILM COLLECTORS, THIS IS A RARE FIND.
IN THIS LOT, THERE ARE PIECES FROM THE 1920'S TO 1930'S AFTER MR. THERE ARE HAND TYPED FILM SHORTS BY MR. GRASSE, AND FILM SHORT & NOTES FROM HIS WIFE AS WELL FROM THE 1920'S - 30'S.
THERE IS AN AUTHOR SIGNED BOOK ON LON CHANEY (CONTEMPORARY), A CONTEMPORARY LETTER FROM THE DIRECTOR OF THE CENTER FOR MOTION PICTURE STUDY, MARGARET HARRICK LIBRARY TALKING ABOUT CREATING A BIOGRAPHY FILE FOR MR. GRASSE, AT THE LIBRARY, PERIODICAL CLIPPINGS OF THE ERA SOME WITH NOTES (PROBABLY FOR INSPIRATION FOR IDEAS AND PIECES HE WROTE), A PERIOD LETTER FROM THE WORLD PICTURES CORPORATION GENERAL MANAGER MR. THERE IS ALSO A PERIOD MOVIE REEL TIN... OWN THIS UNIQUE AND RARE LOT AND ADD IT TO YOUR COLLECTION TODAY. I WILL DETAIL BELOW AS BEST AS POSSIBLE, DUE TO THE NUMBER OF PAPER CLIPPINGS. A TIME WHERE PEOPLE HAD TIME TO WATCH THE SUN AND MOON RISE, AND APPRECIATE THEIR FRIENDS AND FAMILY.
A TIME, WHEN PEOPLE WENT ON DINNER DATES, AND HAD CLASS AND COMMON COURTESY. THE FASTER WE MOVE, THE MORE WE LOSE IN THE MOMENT.
SLOW DOWN, TAKE A MOMENT.... CAN YOU HEAR IT, THE CRACKLE OF THE BIG SCREEN, THE QUIET WHISPERS ON THE BALCONY AS THE CLASSY GENTLEMAN TAKES OFF HIS TOP HAT.
THE BUZZ OF THE LIGHTS DIMMING, AND THE CURTAIN COMES UP. THE SILENCE, AND HOPE OF A BETTER TIME AND PLACE, AS YOUR THOUGHTS AND EMOTIONS DRIFT INTO THE BIG SCREEN, AHHH..... YES, THE MAGIC OF MOVIES..... OWN THESE UNIQUE TRINKETS AND ADD THEM TO YOUR COLLECTION!!!! 26TH, 1938 - TO MR. ALFRED GRASSE, FROM IRVIN SHAPIRO WORLD PICTURES CORPORATION, NEW YORK CITY. A CONTEMPORARY LETTER WRITTEN FEB. 28, 1996, FROM THE CENTER FOR MOTION PICTURE STUDY MARGARET HERRICK LIBRARY - SIGNED BY THE DIRECTOR LINDA HARRIS MEHR - TALKING ABOUT DOCUMENTING THE RECIPIENT'S FATHER ALFRED A. GRASSO'S ACCOMPLISHMENTS IN THE MOTION PICTURE INDUSTRY, AND CREATING A BIOGRAPHY FILE IN THE LIBRARY. AUTHOR SIGNED BOOK, "A THOUSAND FACES, " BOOK ABOUT LON CHANEY - SIGNED/INSCRIBED MICHAEL F. SOME PERIOD PAGES CUT OUT ABOUT FANTASIA, AND HAND TYPED NOTES FROM MR.
GRASSE'S OPINIONS ON WALT DISNEY'S FANTASIA. HAND TYPED, "LA GITANA BOLERO" (THE GYPSY) SYNOPSIS OF STORY BY ROSALIND GRASSO - MARCH, 1929, WORDS AND MUSIC BY LUIGI ARDITI. HAND TYPED "THE LOW BACKED CAR" SYNOPSIS OF STORY BY ROSALIND GRASSO, MARCH, 1929. TYPED AND HANDWRITTEN NOTES "THE PLAN, " TO PRODUCE MOTION PIICTURES BASED ON STORIES FROM THE WORLD'S GREATEST MUSICAL MASTERPIECES.
SYNOPSIS OF STORY FOR BEETHOVEN'S "MOONLIGHT SONATA, " SUGGESTED BY LOIS GOTTSCHALK, MARCH, 1929, HANDWRITTEN NOTES ON THE BOTTOM. ROSE OF MY HEART - ROSALIND GRASSO - MARCH, 1929 - FILM SHORT SKETCH. "MY STRADIVARI, " MUSIC BY EMMARICH EALMAN - FILM SHORT SYNOPSIS - BY ALFRED GRASSO, MARCH, 1929. SOME PAGES TAKEN OUT OF THE DELINEATOR, OCT.
35, PROBABLY FOR INSPIRATION, OR RESEARCH FOR IDEAS. THE FILMARTE THEATER "WILD MEN OF KALIHARI" 1930, BROCHURE, VINE STREET, SOUTH OF SUNSET, HOLLYWOOD, SOME WRITING INSIDE. NUMEROUS NEWSPAPER CLIPPINGS, AND PERIODICAL CLIPPINGS FROM THE ERA 1920'S - 1930'S, WITH HAND WRITTEN NOTES ON SOME, MANY OF THE NOTES REFER TO SYMPHONY, AND CLASSICAL MUSICAL, BECAUSE IT APPEARS THEY INCORPORATED THIS INTO THEIR SCREENPLAY SKETCHES - NO INTERNET BACK IN THE DAY, PEOPLE ACTUALLY HAD TO BE CREATIVE, AND THEY WERE, AND OH SO CLASSY. PLEASE SEE PHOTOS AND CONDITION ISSUES ABOVE. FROM THE EMERALD CITY TO YOUR CITY, THANK YOU FOR TAKING THE TIME, AND YOUR INTEREST IN THIS LISTING. PLEASE TAKE A MOMENT TO LOOK AT OUR OTHER VINTAGE, UNIQUE AND EMERALD CITY TREASURES. THANK YOU AGAIN, AND HAVE A WONDERFUL DAY. WE HERE AT EMERALD CITY TREASURES HAVE SAVED THESE MANY TREASURES FOR YEARS FROM THE CATACOMBS OF THE FUNKY GRUNGY URBAN JUNGLE OF THE PACIFIC NORTHWEST.
WE BELIEVE THAT IT IS IMPORTANT, NO MATTER HOW BIG OR SMALL, TO PRESERVE THESE TRINKETS, AND COLLECTIBLE ITEMS SO THEY MAY LIVE TO SHINE ANOTHER DAY IN SOMEONE ELSE'S COLLECTION, LIBRARY, DECORATING MOTIF, HOME, OFFICE, BOAT, CAR, OR WHEREVER THEY MAY WIND UP. EVERYTHING THAT HAS PASSED THROUGH THE HANDS OF MANKIND, OR THE SOILS OF THIS PLANET, HAS ITS' OWN UNIQUE STORY, AND SOUL. EVERY PIECE IS A MEMENTO OF A PASSING MOMENT IN TIME, AND DESERVES ANOTHER DAY TO BE A BRIGHT SHINING STAR.
IT MAY BE AN OLD 45 THAT WAS CRACKLING ON A TURNTABLE DURING THE BEATNIK GENERATION OF THE 1950'S. IT MAY BE AN ANTIQUARIAN BOOK, THAT PASSED THROUGH THE HANDS OF A FAMOUS PERSON, MINER, FISHERMAN, OUTLAW, OR ANY OTHER NUMBER OF PEOPLE. IT MAY BE A PRESS PHOTO OF A FORMER PRESIDENT.
IT MAY BE A SNAPSHOT OF A WWII SAILOR STUCK ON AN OBSCURE LONELY DESOLATE ISLAND IN THE SOUTH PACIFIC. IT MAY BE SOMEBODY YOU KNOW OF. IT MAY BE SOMEBODY YOU'VE NEVER HEARD OF. IF IT'S CURIOUS, UNIQUE, FUNKY, VINTAGE, OR JUST COMMON, IT MUST BE THE EMERALD CITY.
WHATEVER IT IS, IT WAS MEANT TO BE, BECAUSE YOU LANDED ON THIS PAGE. ADD THIS TREASURE TO YOUR MOTIF, COLLECTION OR WHEREVER ELSE IT SUITS YOU TODAY. FROM THE EMERALD CITY TO YOUR CITY. The item "ALFRED GRASSO LON CHANEY'S 1ST MGR, PHANTOM OF THE OPERA FAME, FILM SHORTS+" is in sale since Monday, August 26, 2019.
This item is in the category "Entertainment Memorabilia\Movie Memorabilia\Scripts\Originals\Signed". The seller is "emeraldcitytreasure-2013" and is located in Everett, Washington. This item can be shipped to United States.