Edward Bernds RETURN OF THE FLY Original screenplay for the 1959 film #145643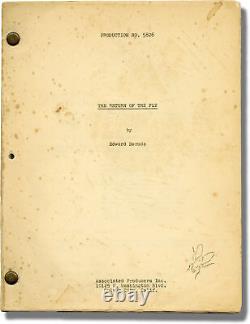 The Return of the Fly (Original screenplay for the 1959 film). Author: Edward Bernds (director, sccreenwriter); George Langelaan (short story); Vincent Price, Brett Halsey, David Frankham, John Sutton, Dan Seymour(starring) Title: The Return of the Fly (Original screenplay for the 1959 film) Publication: Culver City, CA: Associated Producers Inc.
Description: Draft script for the 1959 film. Sequel to Kurt Neumann's "The Fly, " and taking place one year after the conclusion of that film. Phillipe Delambre (Brett Halsey) takes up his father's work of matter transmission, and with his uncle Francois (Vincent Price) they accidentally produce a monstrous creature, a man with the head of a fly. Title page integral to front wrapper, with credits for screenwriter and director Edward Bernds. 102 leaves, with last page of text numbered 93.
Mechanical duplication, rectos only, with blue revision pages throughout, dated variously between February 24, 1959 and February 25, 1959. Pages Near Fine, bound with two gold brads.
Subject: 1950s Cinema, Fantasy, Film Scripts, Horror, Science Fiction. Royal Books is located in the midtown area of Baltimore, Maryland.
Since 1996, we have specialized in rare books and paper relating to twentieth century literature, genre fiction, the arts, and popular culture, with a particular emphasis on cinema. All books noted as First Editions are also First Printings unless indicated otherwise.
This listing was created by Bibliopolis.