FLYING DOWN TO RIO (Aug 25, 1933) Vintage original final film script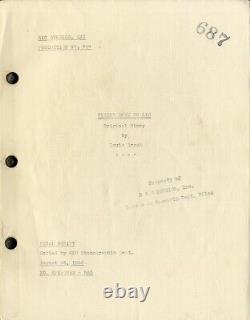 FLYING DOWN TO RIO (Aug 25, 1933) Final film script. Vintage original film script, quarto, brad-bound, carbon typescript on onionskin. Tan titled wrappers, noted as FINAL SCRIPT on the front wrapper, rubber-stamped production No. 687, dated August 25, 1933, with credits for author Louis Brock.
161 leaves, with last page of text numbered 159. Ribbon copy typescript, rectos only.
Brad-bound, light vertical creasing, near fine. For film buffs, the overwhelming historical significance of Flying Down to Rio (Thornton Freeland, 1933) is that it is the movie that introduced the greatest dancing partnership in the history of cinema, Fred Astaire and Ginger Rogers, the first of ten pictures they would make together for RKO followed by a eleventh for MGM. Astaire and Rogers were, in fact, supporting players in this movie. The real leads were Gene Raymond and the spectacularly beautiful Latina actress, Dolores del Río.
However, since romantic leads Raymond and del Río could neither sing nor dance, most of the singing and dancing in this musical (along with much of its comedy) fell to Fred and Ginger. Gene Raymond plays an orchestra leader, songwriter, and flyer of his own private airplane. Astaire is Raymond's best friend, the wise-cracking assistant bandleader, while Rogers plays Honey, the band's provocative vocalist. Franklin Pangborn plays the prissy manager of a Miami hotel, and Eric Blore his equally prissy right-hand man.
When Raymond's flirtation with a beautiful Brazilian played by del Río gets the band fired, they quickly secure a new gig in Rio de Janeiro. Boy, what a title for a song. Unlike subsequent Astaire/Rogers films that are frequently about Fred seducing Ginger via dance, in Flying Down to Rio, Fred and Ginger are already an item. When they witness Brazilian couples dancing forehead-to-forehead to the rhythmic Carioca, they decide to join the exotic fun.
We'll show them a thing or three! And then the Astaire/Rogers magic truly begins. The Carioca musical number is the movie's centerpiece. Showcasing Brazil's racial diversity, the number begins with white couples and concludes with black singers and dancers.
To top that, the film ends with its most spectacular musical number, one parodied in Ken Russell's The Boyfriend, in which the female dancers perform while fastened to the wings of ten (apparently) flying airplanes. The fact that Flying Down to Rio was the first and last of the Astaire/Rogers musicals to be released in the pre-Code era is underlined by the amount of innuendo in its dialogue and the unusually revealing outfits worn by Ginger and the other female dancers. It must come back in the same condition as it was sent. AUTHENTICATION: My name is Walter Reuben. I have been collecting movie posters since 1978.
I have been a full-time dealer since 1982. Everything which I sell is fully researched and entirely guaranteed to be completely authentic and as described. A lifetime of experience goes behind every description of every piece which I offer. ABOUT ME: For further information, go to the ABOUT ME.