John Fante KING OF THE WIND Original screenplay for an unproduced film #158377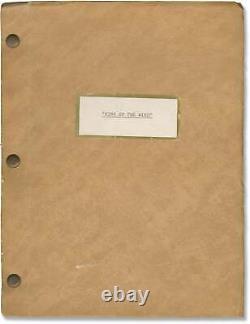 King of the Wind (Original screenplay for an unproduced film). Author: John Fante (screenwriter); Marguerite Henry (novel) Title: King of the Wind (Original screenplay for an unproduced film) Publication: Hollywood: King Brothers Bros. Description: First Draft script for an unproduced film.
Not to be confused with the 1990 film adaptation of Marguerite Henry's novel. Based on the 1948 Newbery Medal-winning novel, about the early life of the Godolphin Arabian, an Arab colt who becomes a successful racehorse in eighteenth-century England. Screenwriter John Fante is best remembered for his 1939 novel "Ask the Dust, " and for his screenplay adaptation of his 1952 novel Full of Life.
OCLC and AMPAS locate no holdings. Beige wrappers with a typescript title label affixed to the front wrapper. Title page present, dated November 18, 1965, noted as First Draft, with credits for screenwriter John Fante and novelist Marguerite Henry.
145 leaves, with last page of text numbered 143. Pages Near Fine, wrapper Very Good plus, bound with three gold brads. Subject: Film Scripts, Films with Literary Sources, Horse Racing, Unproduced Films, Writers. Royal Books is located in the midtown area of Baltimore, Maryland. Since 1996, we have specialized in rare books and paper relating to twentieth century literature, genre fiction, the arts, and popular culture, with a particular emphasis on cinema.
All books noted as First Editions are also First Printings unless indicated otherwise. This listing was created by Bibliopolis.