LAST DETAIL, THE (1973) Shooting script by Robert Towne for Hal Ashby road film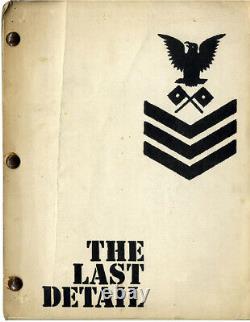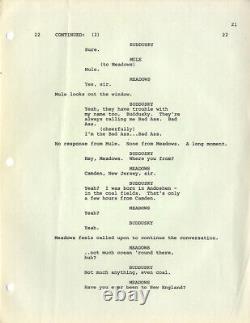 LAST DETAIL, THE (1973) Shooting script by Robert Towne. Burbank, CA: Acrobat Films, [1973]. Vintage original film script, pictorial wrappers, brad bound, mimeograph, 11 x 8 ½ 28 x 22 cm.
Lacking pages 120-121, perhaps as issued. There is a vertical crease to front wrapper and to first pages of text, overall near fine in very good+ wrappers. THE LAST DETAIL (Hal Ashby, 1973) is essentially a road picture, the story of two Navy Shore Patrolmen, Billy "Badass" Buddusky (Jack Nicholson) and Richard "Mule" Mulhall (Otis Young), who are ordered to transport an 18-year-old sailor prisoner, Larry Meadows (Randy Quaid), from their Norfolk, Virginia naval base to the Portsmouth Naval Prison in Maine. Their journey, which lasts several days, takes the three of them through Washington, D.
New York City; Camden, New Jersey (where the prisoner's mother lives), and Boston, Mass. Buddusky, in particular, feels sorry for the naïve young prisoner and wants to show him a good time in the few days preceding his (obviously unjust) eight-year incarceration. The Academy Award-nominated screenplay is by Robert Towne (born Los Angeles, California, 1934), adapted from a first novel by former Navy serviceman, Darryl Ponicsan (born Shenandoah, Pennsylvania, 1938). It was Towne's fourth screenplay credit, following his scripts for two Roger Corman features (THE LAST WOMAN ON EARTH - 1960, and THE TOMB OF LIGEIA - 1964), VILLA RIDES (Buzz Kulik, 1968), and uncredited writing contributions ("script-doctoring") to several major productions, including Arthur Penn's BONNIE AND CLYDE (1967), Richard Fleischer's THE NEW CENTURIONS (1972), and Francis Coppola's THE GODFATHER (1972). Long associated with Jack Nicholson and the Corman group, Towne specifically tailored THE LAST DETAIL's Buddusky character to Nicholson's acting talents.
Pauline Kael, it was Nicholson's greatest performance. Towne's and Nicholson's next project together, Roman Polanski's CHINATOWN (1974), based on an original screenplay by Towne, would be a career peak for both of them. The most significant differences between this "Shooting Script" and the completed film have to do with length.
The movie's memorably profane dialogue is the same in the completed film as it appears in the script, but almost every scene has been trimmed by 20 to 40 percent, and some sequences were omitted from the movie altogether. For example, early in the screenplay, there is an elaborate montage sequence intercutting the two Shore Patrolmen putting on their dress uniforms BUDDUSKY spit polishes his shoes... However, if the sequence was shot, it was deleted from the completed film.
A scene shortly thereafter in which a Navy "carryall" driver drives Buddusky, Mulhall, and Meadows to a bus station was shot, but with all dialogue removed so that what we see on the screen is wordless. The famous sequence in which a bartender refuses to sell the underage Meadows a beer -- BUDDUSKY. I'm gonna kick your ass around the block for drill.
Try it and I'll call the Shore Patrol. Ends shortly after the high point of Buddusky's exclamation, whereas in the shooting script, the scene goes on for another half page. Not all of the profanity of the shooting script made it into the completed film. For example, in the script, Buddusky uses the phrase "a coon's age, " Mulhall, who is black, objects to it, and the two of them briefly discuss whether it's just an expression.
Some of the bits of business that are in the shooting script were eliminated, for example, when Meadows, who is a compulsive shoplifter, steals the keys to his handcuffs. A sequence in which the three sailors attempt to sight-see Washington, DC's most famous landmarks -- the Washington Monument, the Jefferson Memorial -- does not appear in the completed film. With respect to the two Shore Patrolmen, THE LAST DETAIL is a character study looking at what kind of person stays in the military for life. With respect to the prisoner, Meadows, the film is a coming-of-age story in which the young sailor, with the aid of his two captors, drinks beer for the first time, throws a punch, smokes grass, learns to get what he asks for in a restaurant, roller skates, has sex for the first time, and acquires a backbone of sorts which -- tragically -- leads to a failed escape attempt, ending the story on a sour note for all concerned.
It must come back in the same condition as it was sent. AUTHENTICATION: My name is Walter Reuben. I have been collecting movie posters since 1978.
I have been a full-time dealer since 1982. Everything which I sell is fully researched and entirely guaranteed to be completely authentic and as described. A lifetime of experience goes behind every description of every piece which I offer. ABOUT ME: For further information, go to the ABOUT ME. This item is in the category "Entertainment Memorabilia\Movie Memorabilia\Scripts\Originals\Unsigned".
The seller is "walterfilmusa" and is located in this country: US. This item can be shipped worldwide.
Modified Item: No
Country/Region of Manufacture: United States
Original/Reproduction: Original
Signed: No
Industry: Movies