Tom Selleck INNOCENT MAN HARD RAIN Original screenplay for the 1989 film #158740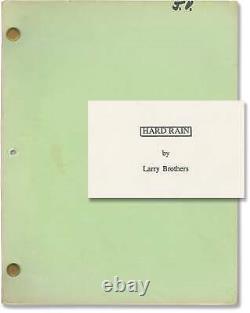 An Innocent Man [Hard Rain] (Original screenplay for the 1989 film). Author: Tom Selleck (starring); Larry Brothers (screenwriter); Peter Yates (director); F. Murray Abraham, Laila Robins, Richard Young (starring) Title: An Innocent Man [Hard Rain] (Original screenplay for the 1989 film) Publication: Los Angeles: Interscope Communications Inc. Description: Draft script for the 1989 film.
Script belonging to an unknown cast or crew member, with their holograph ink initials at the top right corner of the front wrapper. A man is framed as a drug dealer by two corrupt cops. In prison, he meets people who may be able to help him get his life back. Shot on location in Carson City, Nevada, Norwood, Ohio, California, and the Hamilton County Jail in Cincinnati, Ohio.
Title page present, dated January 23, 1989, with credits for screenwriter Larry Brothers. 123 leaves, with last page of text numbered 115. Xerographic duplication, rectos only, with pink, yellow, and goldenrod revision pages throughout, dated variously between 2/7/89 and 2/15/89. Pages Near Fine, wrapper Near Fine, bound with two gold brads. Subject: 1980s Cinema, Film Scripts, Mystery and Crime. Royal Books is located in the midtown area of Baltimore, Maryland. Since 1996, we have specialized in rare books and paper relating to twentieth century literature, genre fiction, the arts, and popular culture, with a particular emphasis on cinema. All books noted as First Editions are also First Printings unless indicated otherwise. This listing was created by Bibliopolis.