1960 THE MAGNIFICENT SEVEN Vintage Hollywood Western Screenplay Script KUROSAWA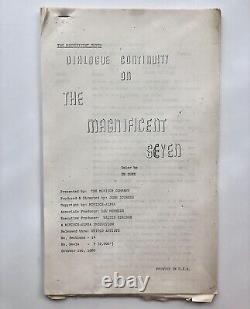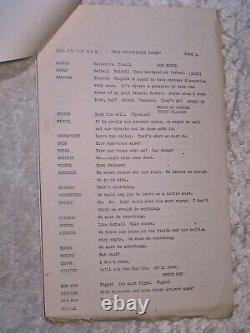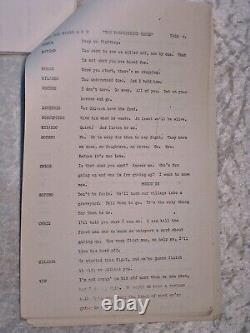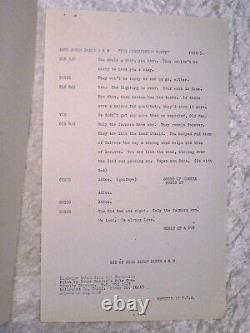 1960 THE MAGNIFICENT SEVEN Vintage Hollywood Western Screenplay Script KUROSAWA. Original 1960 DIALOGUE CONTINUITY SCREENPLAY for THE MAGNIFICENT SEVEN. Dated October 1, 1960, this is the original, pre-release printing of the dialogue continuity, taken from the 1st Composition Print by Laura Rosser's Film Continuity Service, the film was released two weeks later, on October 12, 1960. Though uncredited, the screenplay was written by William Roberts, Walter Bernstein, and Walter Newman, and based on Akira Kurosawa's 1954 Japanese language film "The Seven Samurai" written by Kurosawa, Shinobu Hashimoto and Hideo Oguni. The Magnificent Seven starred Yul Brynner, Eli Wallach, Steve McQueen, Charles Bronson, Robert Vaughn, Brad Dexter, James Coburn, Horst Buchholz and is considered one of the most iconic Hollywood Westerns. Original vintage photocopied dialogue continuity screenplay, white paper covers, 45 numbered pages, 8.5" x 14", printed on one-side only, bound with one staple at the top left corner.
The Dialogue Continuity is a shot-by-shot / reel-by-reel breakdown of the script. VERY GOOD Condition: age-toning and light wear, 3 pages pulled from the staple but all pages are present, bottom edgewear to one pulled page, in some areas of the page bottoms the photocopying has made the printing difficult to read, but it is still mostly legible, overall tight, bright, clean and unmarked.
Scarce, this is the only copy of the Dialogue Continuity Screenplay of The Magnificent Seven I have seen, there are none in the OCLC. Continuity Scripts were an important part of the film industry in its early days. They were typically created after a film was "in the can", but before it was released, in order to create a written "copy" of the film. A good "Continuity" provided a transcription of every shot and scene in detail as it occurred in the finished film, something that could obviously not be known until a film was completed.
A true continuity script was therefore often the only archived, scene-by-scene, record of many early films. The Magnificent Seven, the iconic western by John Sturges, is a celebrated adaptation of the legendary Akira Kurosawa film The Seven Samurai, transferred to the Wild West, and shot on location in Mexico. The Magnificent Seven has only William Roberts credited as the screenwriter, but both Walter Bernstein and Walter Newman contributed significantly to the creation of one of the greatest westerns ever filmed.