Al Pacino Gene Hackman SCARECROW Original screenplay for the 1973 film #160169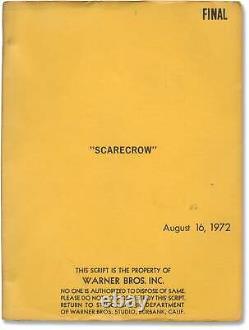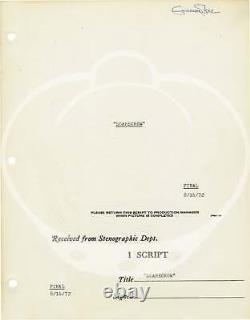 Scarecrow (Original screenplay for the 1973 film). Author: Gene Hackman, Al Pacino, Dorothy Tristan (starring); Jerry Schatzberg (director); Garry Michael White (screenwriter) Title: Scarecrow (Original screenplay for the 1973 film) Publication: Burbank, CA: Warner Brothers, 1972. Description: Final Draft script for the 1973 film. Copy belonging to production accountant Gordon Kee, with his name in manuscript ink on the first leaf. Two drifters set out on a journey east from California towards Pittsburgh, hoping to start a business together when they arrive.
A key film from the New Hollywood era and one of the best proletarian-minded works of the 1970s. Winner of the Palme d'Or.
Shot on location in Denver and Canon City, Colorado, in Detroit and Hamtramck, Michigan, and in Reno, Nevada. Yellow titled wrappers, noted as FINAL on the front wrapper, rubber-stamped copy No.
97, dated August 16, 1972. Distribution page present, with receipt intact. Title page present, dated 8/16/72, with credits for screenwriter Garry Michael White.
115 leaves, with last page of text numbered 113. Mimeograph duplication on eye rest green stock, rectos only. Pages Near Fine, wrapper Near Fine, bound internally with two gold brads. Subject: 1970s Cinema, Actors, Cannes Film Festival, Film Scripts, New Hollywood Cinema, Road Film, Social Justice, Radical, and Proletarian Interest. Royal Books is located in the midtown area of Baltimore, Maryland. Since 1996, we have specialized in rare books and paper relating to twentieth century literature, genre fiction, the arts, and popular culture, with a particular emphasis on cinema. All books noted as First Editions are also First Printings unless indicated otherwise. This listing was created by Bibliopolis.