ANGEL (1937) Revised draft film script for film by Ernst Lubitsch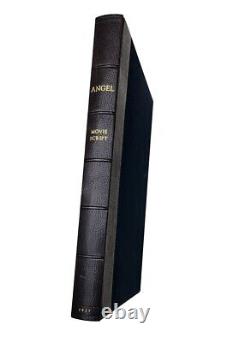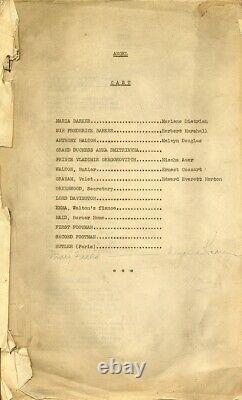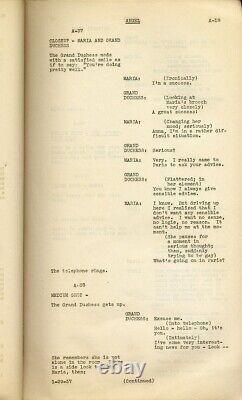 Ernst Lubitsch (director) ANGEL (1937) Revised draft film script. Draft script for the 1937 film. With the name of character Mary Field and actor Suzanne Kaaren (uncredited in the final film) added to the cast list in holograph pencil, and with a few minor holograph pencil emendations throughout.
Screenplay divided into eight alphabetical sequences, A through H. In a custom quarter leather clamshell box. 175 leaves, with last page of text numbered H-19. Mimeograph duplication, rectos only, with white revision pages throughout, dated variously between 1/28 and 2/1/37. Pages very good+, some front leaves with light soiling, wrapper very good, lightly soiled, dampstaining, separating at the spine, side stapled with three staples.
The great Ernst Lubitsch started at Paramount in 1928 and was there for a decade, during the course of which he created a series of now famous classic films, primarily comedies. Angel is his next to last Paramount film, and the only one which he ever directed with Marlene Dietrich. It is in fact a complex and bittersweet film, and very highly regarded by many. Here follows commentary about it from one of the foremost Lubitsch scholars: No other Lubitsch film approaches its story with the extreme degree of obliqueness that we see in Angel. It is almost an experimental film in that regard.
This tour de force is the director's adroit way of getting around the challenge of filming material that may have seemed almost unfilmable in that era under the Code. Based on a play by Melchior Lengyel, with a screenplay by Samson Raphaelson from an adaptation by Guy Bolton and Russell Medcraft, Angel is the discreetly scandalous story of a married woman, Lady Maria Barker (Dietrich), who seeks a sexual adventure after being neglected by her politely boring British diplomat husband, Sir Frederick (Herbert Marshall). While visiting a Parisian'salon' that with perfect ambiguity, could be seen as a gambling establishment, a social club where affairs are arranged, a high class brothel, or all three, Maria meets and falls in love with an American during a brief fling. Tony Halton (Melvyn Douglas) has not met her husband but turns out to have a connection with him, a deliciously oblique one, a shared lover named Paulette in Paris during World War I...
The interactive relationship between Lubitsch and his audience--an element even more central to his work than perhaps any other director's, even Hitchcock's--has seldom been as vital as it is in Angel. Truffaut best explains this trait:'There would be no Lubitsch without an audience--but, watch out--the audience is not something apart from his work; it is with him in creating, it is part of the film...
The prodigious ellipses in his plots work only because our laughter bridges the scenes. In the Lubitsch Swiss cheese, each hole winks... The film's discretion becomes breathtakingly suspenseful and funny when this woman who has a one-night fling with a man finds him showing up as a luncheon guest at her home with her unsuspecting husband.
The mystery of Maria's true nature, and by extension the mystery of womanhood and love itself is the principal focus of Lubitsch and Raphaelson's attention throughout the film. But the director's emphasis on his female protagonist's mysteriousness is a form of respect for the depths of her character and her insistence on her individual identity beneath the role-playing--on her right to a dual identity, to the complexity of character that exists in all of us. Angel makes it clear that Maria values her marriage, and the film never takes the easy way out of making Frederick an ogre.
As always in Lubitsch, the dice are not loaded, and the love of the game, the serious game of sexual and emotional affinities, is what matters. Joseph McBride, How Did Lubitsch Do It? It must come back in the same condition as it was sent. AUTHENTICATION: My name is Walter Reuben. I have been collecting movie posters since 1978.
I have been a full-time dealer since 1982. Everything which I sell is fully researched and entirely guaranteed to be completely authentic and as described. A lifetime of experience goes behind every description of every piece which I offer. ABOUT ME: For further information, go to the ABOUT ME.