Francis Ford Coppola CONVERSATION Original screenplay for the 1974 film #160127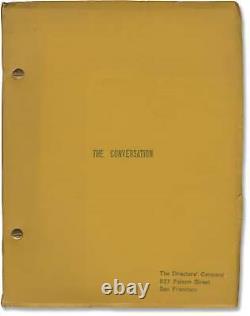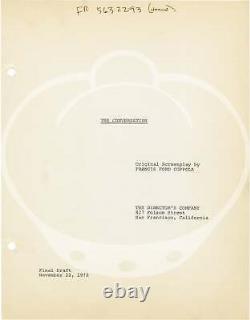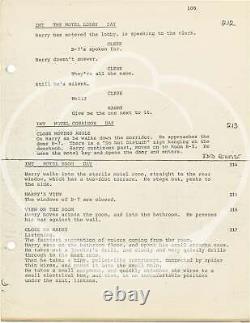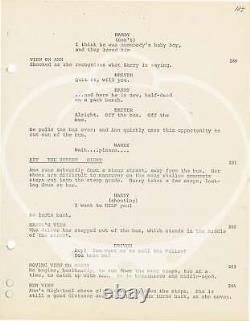 The Conversation (Original screenplay for the 1974 film). Author: Francis Ford Coppola (director, screenwriter); Gene Hackman (starring) Title: The Conversation (Original screenplay for the 1974 film) Publication: San Francisco: The Director's Company, 1972.
Description: Final Draft script for the 1974 film. Single annotation in manuscript ink on the title page, with copied annotations amending pagination on pages 100-120 (the final 20 pages of the script). Widely regarded among director Francis Ford Coppola's greatest achievements, and a high point for actor Gene Hackman.
Originally produced by Coppola with Fred Roos for The Directors' Company (a short-lived entity Coppola formed with Peter Bogdanovich and William Friedkin). Winner of the Palme d'Or and nominated for three Academy Awards, including Best Picture.
Set and shot on location in San Francisco. Mustard yellow titled Director's Company wrappers. Title page present, dated November 22, 1972, noted as Final Draft, with credits for director-screenwriter Francis Ford Coppola. 121 leaves, with last page of text numbered 120. Pages Near Fine, wrapper Very Good plus, bound with two gold screw brads.
Subject: 1970s Cinema, Academy Awards, Directors, Film Scripts, National Film Registry, New Hollywood Cinema. Royal Books is located in the midtown area of Baltimore, Maryland.
Since 1996, we have specialized in rare books and paper relating to twentieth century literature, genre fiction, the arts, and popular culture, with a particular emphasis on cinema. All books noted as First Editions are also First Printings unless indicated otherwise. This listing was created by Bibliopolis.