Fred Olen Ray MIND TWISTER Original screenplay for the 1994 film 1992 #142386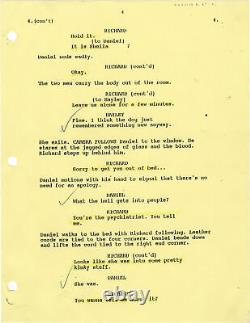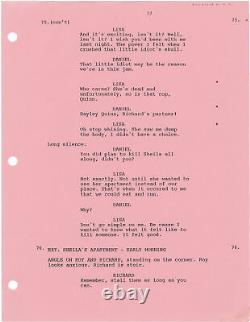 Mind Twister (Original screenplay for the 1994 film). Author: Fred Olen Ray (director); Mark Thomas McGee (screenwriter); Telly Savalas, Erika Nann, Gary Hudson, Suzee Slater (starring) Title: Mind Twister (Original screenplay for the 1994 film) Publication: Los Angeles: Smart Egg Pictures, 1992. Description: Draft script for the 1994 film. Copy belonging to actor Telly Savalas who played Richard, with annotations and corrections related to his character in holograph ink. Laid in are 21 additional pages of dialogue, with photocopied annotations. The friend of two exotic dancers is found dead and her coworkers decide to expose the psychiatrist who murdered her. Fred Olen Ray is a film director best known for his low to medium-budget films, this particular movie proving to be actor Telly Savalas' final role.
Title page present, dated June 19, 1992, with credits for screenwriter Mark Thomas McGee. 105 leaves, with last page of text numbered 93. Xerographic duplication, with yellow and pink revision pages throughout, dated variously between June 9, 1992 and June 19, 1992. Pages Near Fine, lacking wrapper housed in a three ring binder. Subject: 1990s Cinema, Film Scripts, Mystery and Crime.
Royal Books is located in the midtown area of Baltimore, Maryland. Since 1996, we have specialized in rare books and paper relating to twentieth century literature, genre fiction, the arts, and popular culture, with a particular emphasis on cinema. All books noted as First Editions are also First Printings unless indicated otherwise. This listing was created by Bibliopolis.