HUMAN FACTOR, THE (1978) Vintage original film script adapted by Tom Stoppard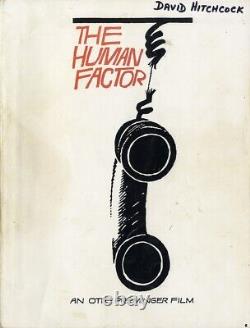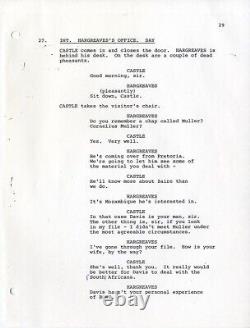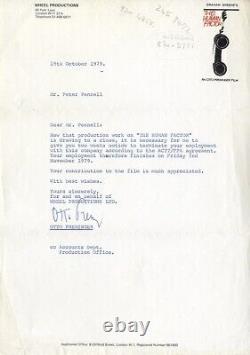 THE HUMAN FACTOR (1978) Film script by Tom Stoppard, adapted from Graham Greene. Vintage original film script, 11 x 8.5 28 x 22 cm.
Illustrated front wrapper based on Saul Bass' poster design for the film. Copy belonging to uncredited crew member David Hitchcock, with his name in holograph ink on the front wrapper. Holograph annotations throughout primarily indicating deleted scenes. Also included is a carbon typed letter signed by Otto Preminger, dated 19th October 1979, to dubbing editor Peter Pennell terminating his employment at the conclusion of production. A few pages have MS deletions of scenes in an unknown hand.
Fine in very good+ wrappers, internally bound with a silver prong. His previous film, ROSEBUD (1975) had been particularly savaged for its screenplay written by Erik Lee Preminger, Otto's son. Otto, who in the past had directed such acknowledged classics as LAURA (1944), ANATOMY OF A MURDER (1959), EXODUS (1960), and ADVISE AND CONSENT (1962), hedged his bets this time around by hiring a first-class screenwriter, Tom Stoppard, to adapt Graham Greene's just-published novel, and by hiring some of the finest British actors of their respective generations -- Nicol Williamson, John Gielgud, Richard Attenborough, and Robert Morley, among them -- to star in the film. Like Preminger's 1965 success, BUNNY LAKE IS MISSING, the movie was shot mostly in England. The result is one of his finest achievements. Playwright and screenwriter, Sir Tom Stoppard, was born as Tomás Sträussler in Czechoslovakia (now the Czech Republic) in 1937, and as a child had to emigrate to England, fleeing Nazi occupation. His personal history as an outsider and an exile is often reflected in his work. For example, the protagonist of THE HUMAN FACTOR, Maurice Castle, is a British secret service agent who spent time working among the blacks in South Africa where he felt very much like an outsider, and he ends up tragically exiled from England to Moscow.
Stoppard's plays are known for their linguistic playfulness and their metafictional narrative structures. His most-honored plays include ROSENCRANTZ AND GUILDENSTERN ARE DEAD (1966), TRAVESTIES (1974), THE REAL THING (1982), and ARCADIA (1993). Prior to adapting THE HUMAN FACTOR, Stoppard had authored the screenplays for Joseph Losey's THE ROMANTIC ENGLISHWOMAN (1975), and R.
Fassbinder's DESPAIR (1978), adapted from Nabokov. His subsequent screenplays include Terry Gilliam's BRAZIL (1985), Stephen Spielberg's EMPIRE OF THE SUN (1987), adapted from a J. Ballard novel, and SHAKESPEARE IN LOVE (1998) for which Stoppard won the Academy Award for Best Original Screenplay.
He was knighted in 1997. THE HUMAN FACTOR is a spy drama, a black comedy, a love story, and ultimately, a tragedy (Wikipedia refers to it as a neo-noir). The story's author, Graham Greene, wrote that his aim was to write a novel of espionage free from the conventional violence, which has not, in spite of James Bond, been a feature of the British Secret Service. I wanted to present the Service unromantically as a way of life, men going daily to their office to earn their pensions. Thus the novel, the screenplay and the movie made from it stress the bureaucratic banality of working for the secret service. Castle, the protagonist played by Nicol Williamson, is a bureaucrat, scarcely distinguishable from the other bureaucrats he works with.
Except he has a black African wife (Iman). When the government learns that someone is leaking secrets from Castle's African division, the principal suspects are Castle and his younger bachelor colleague Davis (Derek Jacobi). The security chief sent to investigate the matter, Colonel Daintry (Richard Attenborough), is a clueless fool, and eventually Castle's superiors (wrongly) conclude that the leaker is Davis.
Rather than arrest Davis and cause a scandal, they coldly decide to "eliminate" him by injecting him with a toxin that will make it look as though Davis died suddenly from a fatal illness. The real leaker is Castle, who has been slipping little bits of information to the communists for years, based on loyalty to a South African attorney friend who was instrumental in smuggling Castle's Bantu wife and her baby son out of the country. Castle realizes immediately that Davis was murdered in his place, and makes plans to have himself and his family transported to Russia before the agency can figure out the truth. Alas, things do not go as planned. Castle's wife and child are held as virtual prisoners in England, while Castle ends up exiled, separated forever from his loved ones, in a hellish apartment in Moscow.
While the film's plot closely follows Graham Greene's novel, screenwriter Stoppard has embellished the dialogue with his own characteristic dry wit. Paradoxically, the screenplay's most sinister character, Dr. Percival (Robert Morley), the physician who administers the deadly toxin to Davis, is also its funniest. He tells Davis, We medicos love tests.
It's the thrill of the chase -- tracking down disease in people who think they're perfectly fit. Preminger's movie does not significantly diverge from Stoppard's brilliant screenplay. Some dialogue and a few scenes have been cut. In this copy of the script, a couple of scenes aboard a train have been crossed out and marked in pencil Deleted.
One noteworthy difference -- both the screenplay and the film end with Castle on the telephone in Moscow talking to his wife in London until they are abruptly cut off. Stoppard's screenplay ends with a shot of Castle's hand hanging up the telephone, while in Preminger's movie the last thing we see is a shot of the telephone receiver left dangling, an image so emblematic of the film as a whole that it became the basis of the movie's Saul Bass-designed poster art. For producer/director Otto Preminger, THE HUMAN FACTOR was a personal film in several respects. Many of Preminger's films deal with racial issues, for example, both CARMEN JONES (1954) and PORGY AND BESS (1959) feature all-black casts, and his 1967 film HURRY SUNDOWN is about racial relationships in post-World War II Georgia. So clearly, Preminger was attracted to the racial themes of THE HUMAN FACTOR, which became one of the first American films to show a marriage between a black woman and a white man. THE HUMAN FACTOR is also an example of what Andrew Sarris and other critics have referred to as Preminger's "ambiguity of objectivity", i.
The presentation of two or more points of view on a controversial subject without overtly favoring one side or the other. In THE HUMAN FACTOR on the one hand, Castle can be considered a "traitor" (his mother unequivocally refers to him as such), but many viewers might feel sympathy for his actions, since the "secrets" he conveys to the other side are of little value, the agency that Castle betrays is murderous, and his reasons for doing what he does are not ideological, but based on loyalty to a friend and the need to protect his wife and adopted child. Characteristically, as in a courtroom trial, Preminger presents all the evidence objectively and lets the audience reach its own verdict. It must come back in the same condition as it was sent.
AUTHENTICATION: My name is Walter Reuben. I have been collecting movie posters since 1978. I have been a full-time dealer since 1982. Everything which I sell is fully researched and entirely guaranteed to be completely authentic and as described.
A lifetime of experience goes behind every description of every piece which I offer. ABOUT ME: For further information, go to the ABOUT ME. This item is in the category "Entertainment Memorabilia\Movie Memorabilia\Scripts\Originals\Unsigned". The seller is "walterfilmusa" and is located in this country: US. This item can be shipped worldwide.
Country/Region of Manufacture: United Kingdom
Modified Item: No
Industry: Movies
Object Type: Script
Original/Reproduction: Original
Signed: No