John Huston RED BADGE OF COURAGE Original screenplay for the 1951 film #158702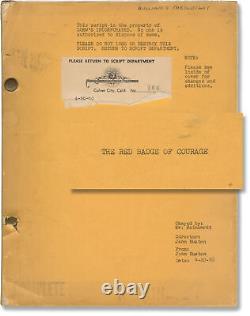 The Red Badge of Courage (Original screenplay for the 1951 film). Author: John Huston (director, screenwriter); Stephen Crane (novel); Audie Murphy, Bill Mauldin, Douglas Dick (starring) Title: The Red Badge of Courage (Original screenplay for the 1951 film) Publication: Culver City, CA: Metro-Goldwyn-Mayer [MGM], 1950. Description: Draft script for the 1951 film, with "Complete, " "Rerun, " and "May 8 1950" stamps on the front wrapper. Copy belonging to uncredited crew member William T. Cartwright, with his name in holograph ink on the top edge of the front wrapper. Based on the classic 1895 novel by Stephen Crane. At the completion of shooting, Huston considered the film one of his best, but MGM cut over an hour from his film before releasing it to a poor reception. Shot on location in California.
Goldenrod titled wrappers, noted as DRAFT on the front wrapper, dated 4-20-50, with credits for screenwriter and director John Huston. 97 leaves, with last page of text numbered 92. Pages Near Fine, wrapper Very Good plus, bound with two gold brads.
Godard, Histoire(s) du cinema. Subject: 1950s Cinema, Civil War, Directors, Film Scripts, Films with Literary Sources, War Film. Royal Books is located in the midtown area of Baltimore, Maryland. Since 1996, we have specialized in rare books and paper relating to twentieth century literature, genre fiction, the arts, and popular culture, with a particular emphasis on cinema. All books noted as First Editions are also First Printings unless indicated otherwise.
This listing was created by Bibliopolis.