Lee Madden GHOST FEVER Original screenplay for the 1986 film 1984 #144100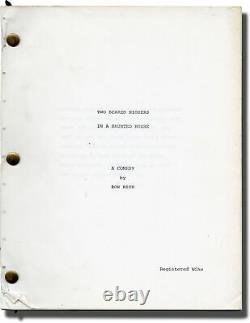 Ghost Fever (Original screenplay for the 1986 film). Author: Lee Madden (director); Oscar Brodney, Ron Rich (screenwriters); Sherman Hemsley, Luis Avalos, Myron Healey (starring) Title: Ghost Fever (Original screenplay for the 1986 film) Publication: Los Angeles: Miramax, 1984. Description: Draft script for the 1986 film, here under an alternate working title. Draft credited to producer Ron Rich, who would go uncredited on the final film. With occasional brief holograph corrections to the text.
A supernatural comedy, in which two police officers become trapped in a haunted plantation, encountering ghosts, vampires, and zombies, including the racist spirit of the former plantation owner. After the film's initial release, it was re-cut by the studio and re-released in March 1987, leading director Lee Madden to remove his name from the film, crediting it to Alan Smithee. White titled self wrappers, with credits for screenwriter Ron Rich. Title page integral on the front wrapper.
123 leaves, with last page of text numbered 111. Xerographic duplication, with blue revision pages throughout, dated variously between 3/4/84 and 3/9/84.
Pages Near Fine, wrapper Very Good plus, bound with two gold brads. Subject: 1980s Cinema, African American Interest, Blaxploitation, Comedy, Film Scripts, Horror, Zombies. Royal Books is located in the midtown area of Baltimore, Maryland.
Since 1996, we have specialized in rare books and paper relating to twentieth century literature, genre fiction, the arts, and popular culture, with a particular emphasis on cinema. All books noted as First Editions are also First Printings unless indicated otherwise.
This listing was created by Bibliopolis.