Mel Gibson BRAVEHEART Original screenplay for the 1995 film 1994 #144358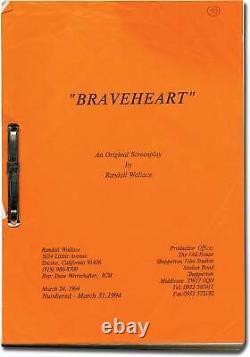 Braveheart (Original screenplay for the 1995 film). Author: Mel Gibson (director, starring); Randall Wallace (screenwriter); Sophie Marceau, Patrick McGoohan, Catherine McCormack (starring) Title: Braveheart (Original screenplay for the 1995 film) Publication: Hollywood: Icon Entertainment, 1994. Description: Draft script for the 1995 film. An early draft, produced prior to the film having an association with Mel Gibson's production company, Icon Entertainment International. Winner of five Academy Awards, including Best Picture and Best Director, and nominated for another five, including Best Original Screenplay.
Orange titled wrappers, production No. 53, dated March 24, 1994, with credits for screenwriter Randall Wallace. 110 leaves, with last page of text numbered 110. Xerographic duplication, rectos only, dated 31-Mar-94.
Pages Near Fine, wrapper Very Good with some tears and folding at the extremities, silver prong binding. Subject: 1990s Cinema, Academy Awards, Biography, Film Scripts, History. Royal Books is located in the midtown area of Baltimore, Maryland. Since 1996, we have specialized in rare books and paper relating to twentieth century literature, genre fiction, the arts, and popular culture, with a particular emphasis on cinema. All books noted as First Editions are also First Printings unless indicated otherwise.
This listing was created by Bibliopolis.