NONE BUT THE LONELY HEART Copy #1 of Film Script from the RKO Studio Archive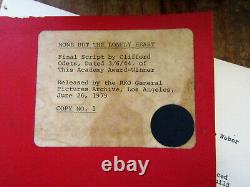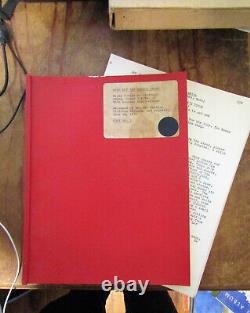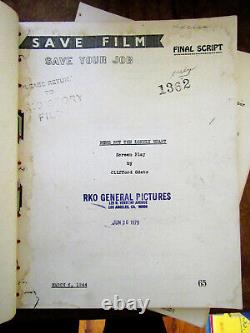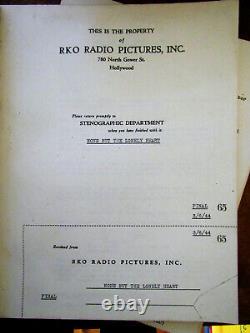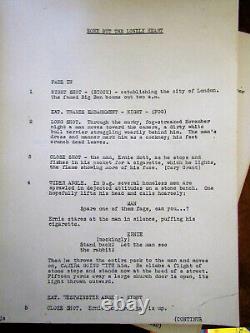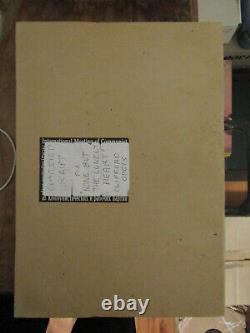 NONE BUT THE LONELY HEART. Copy #1 of Film Script from the RKO Studio Archive. On offer is a copy of the finished script for the film NONE BUT THE LONELY HEART. The film was produced by the RKO Studio in Hollywood in 1944 and starred Cary Grant. It won Best Film from the 1944 National Board Of Review in New York.
It also garnered an Academy Award for the performance of actress Ethel Barrymore. The script was written in 1944 by renowned American radical playwright Clifford Odets, who also served as the director.
It was adapted from a book by Richard Llewellyn. In 1947, the contents of the script was discussed in front of the HEARINGS BEFORE THE COMMITTEE ON UN-AMERICAN ACTIVITIES, where he was accused of "inserting Communist propaganda" into the script of an American movie -- specifically, he had remained true to the original novel, which portrayed a hard-hearted banker as insensitive to the situation of a poor family. The film's composer, Hans Eisler, was also dragged in for questioning, after it was brought to the committee's attention that he had composed "The International", an anthem sung by trade-union members, socialists and communists around the world.
In 1979, the RKO General Pictures Archive, which conserved films and documents from the studio's earlier productions, received a surviving copy of the script which had been used in production of the movie. It was dated 3/6/1944 on the front page, marked'FINAL' meaning the final version, ready for use on set, and stamped #1362. This historic document was swiftly duplicated by the RKO Stenographic Department, and the resulting copies were then entered into the RKO Story Files section of the Archive. Each copy displayed a label on the front of the binder, identifying which copy it was. The script on offer here is labelled COPY NO.
The first page bears a blue stamp which certifies it as one of the copies made on June 26th, 1979. The script is 167 pages long (printed on one side only). It is complete and entirely intact, with one notable exception -- the very last page has been scissored down the right-hand side, eliminating a few words from the end of every line. Good thing it wasn't a whodunnit! See my attached photo to examine this particular page.
The script is contained within a cardboard carry-case which has a sticker on it that reads: INTERNATIONAL MEETING OF COMMUNIST-- (the remainder of the label is obscured beneath another sticker, bearing the title of the script). This is printed down one side in English lettering, down the other in Russian lettering. The entire package weighs 1.2 kilograms. This item is in the category "Movies & TV\Movie Memorabilia\Scripts".
The seller is "wolfvalentine" and is located in this country: AU. This item can be shipped worldwide.
Product Type: Scripts
Era: 1970s
Original/Reproduction: Original