SID AND NANCY (1985) Vintage original Third Draft film script by Cox, Wool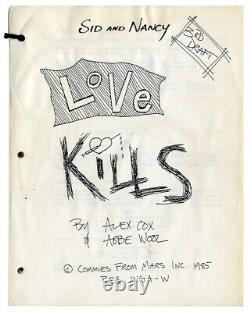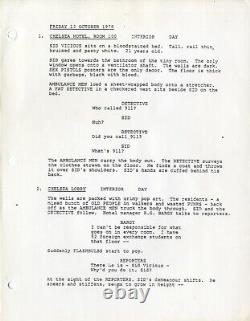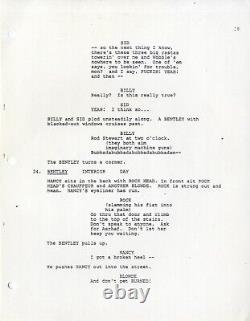 SID AND NANCY (1985) Third Draft script by Alex Cox, Abbe Wool. London: Commies from Mars / Initial Pictures, 1985.
Vintage original film script for the 1986 film Sid and Nancy, here under the working title Love Ks. Illustrated titled self wrappers, noted as 3RD DRAFT on the front wrapper, dated 1985, with credits for screenwriters Cox and Wool.
Title page integral with front wrapper. 113 leaves, with last page of text numbered 107. Very good+, bound with a single black cloth-covered twist tie (in true punk fashion). Brilliant but gritty biographical look at Sid Vicious (Oldman), bassist for the British punk band Sex Pistols, and his girlfriend Nancy (Webb). Their relationship is sprinkled with guilt, sympathy, and copious drug use, implying Nancy introduced Sid to heroin when she traveled to London to have sex with the Sex Pistols.
The two fall in love, commit to a suicide pact, and try to start a new solo career in New York after the breakup of the band. One night, in a drug-induced stupor, Sid announces his intention to quit heroin and move back to London, prompting a suicidal Nancy to beg him to kill her.
Perhaps unintentionally, perhaps not, Sid stabs Nancy and she dies in the bathroom. Set in London and New York, shot there on location, and in New Jersey, California, and France. The soundtrack boasts songs by Dan Wool, The Pogues, John Cale, KC & the Sunshine Band, and several Sex Pistols songs, with the title track "Love Ks" by Joe Strummer. No filmmaker embodied the 80s punk scene more thoroughly than Alex Cox.
Born in Bebington, Cheshire, England in 1954, Cox attended film school at UCLA where he produced his first film, a surreal short entitled EDGE CITY. Cox's feature-length screenplay, REPO MAN, attracted the attention of producer (and former Monkee) Mike Nesmith, who convinced Universal Studios to finance it. Though not immediately successful, Cox's REPO MAN, released in 1984, eventually became a profitable cult classic, enabling Cox to obtain backing from an English production company for his 1986 feature, SID AND NANCY (aka SID AND NANCY: LOVE KS).
Cox's co-writer on this script, Abbe Wool, was a UCLA classmate of Cox's and purportedly even more knowledgeable concerning the punk scene than he was. After co-scripting SID AND NANCY (on which she is also credited as "kitten wrangler"), she went on to write and direct the feature, ROADSIDE PROPHETS (1992), starring John Doe of the L. Alex Cox's and Abbe Wool's SID AND NANCY screenplay was inspired by the real-life relationship of English punk rocker, Sid Vicious, notorious bassist for the Sex Pistols, and his American girlfriend, Nancy Spungeon.
The film, shot cinéma vérité-style in New York and London, featured breakout performances by Gary Oldman as Sid and Chloe Webb as Nancy. The screenplay begins on October 13, 1978 in a room in New York's Chelsea Hotel--SID VICIOUS sits on a bloodstained bed.
Tall, rail thin, bruised and pasty white. The police have arrived to discover the body of Sid's girlfriend, Nancy Spungeon, who has bled to death from a knife wound. Although the film later shows her being accidentally killed in a struggle with Sid, there are multiple theories as to how she actually died. The mystery was never resolved insofar as Sid himself died of a heroin overdose in February 1979, shortly before the murder case was scheduled to be tried. The bulk of the story takes place in flashback, beginning in the movie with how Sid and Nancy met in London, and beginning in the screenplay before they met with Nancy working as a dancer in a New York go-go club.
And so it goes throughout the screenplay. The movie follows the screenplay more or less, but some scenes were added and some subtracted, and a fair amount of dialogue was improvised while the scenes were being shot.
We meet Nancy at the London pad of a dominatrix named Linda. We see the Sex Pistols perform. We see Sid beat up a journalist. At first, Nancy is more interested in John Lyden aka Johnny Rotten, the lead singer of the Pistols, but when she tries to crawl into the sack with him, he rejects her, and she winds up with Sid, an affair that will last through the remainder of their brief lives. The screenplay divides roughly into two parts: Part One--Life as a Sex Pistol, anarchic fun, culminating with Sid's iconic performance of My Way.
Part Two--Life as a junky, not fun at all, with Sid and Nancy holed up in New York's Chelsea Hotel, waiting for the next fix, as things degenerate from bad to worse. Even a fire in their hotel room (true incident) is not enough to stir Sid and Nancy from their drug-induced haze. Sometimes the screenplay's dialogue is almost too on-the-nose, for example, this monologue that was omitted from the completed film, probably because Chloe Webb's extraordinary performance as Nancy communicates everything expressed in this speech and more: NANCY : I've been so much trouble for them all.
I tried to kill my mother with a hammer. I tried to kill my babysitter and my cat. They used to lock me in the basement so I wouldn't hurt my brother and sister. I got kicked out of all my schools.
I didn't know what I was doing half the time. They had me on THORAZINE when I was NINE-- The punk philosophy, to the extent it had one, was a negation of everything that came before it. The music was intentionally abrasive and amateurish. As Johnny tells Nancy early in the script: JOHNNY : Fn Americans.
Sex is all you ever fhink about. None of us fk, see. SID AND NANCY is an exemplary time capsule film, precisely capturing how a particular generation reacted to the injustices of the Reagan/Thatcher era. And yet the movie is oddly upbeat, in spite of itself--maybe because it seems to say that no matter how awful your life is or how awful you are, there may be somebody out there who is perfect for you.
As Sid and Nancy were for each other. At the insistence of the production company, the screenplay has a happy ending, a fantasy sequence taking place after Nancy's death.
Sid is alone on Rikers Island, looking for pizza. Suddenly: A CHECKER CAB appears. NANCY IS SITTING IN THE BACK. Healthy, hair a glowing platinum, no track marks on her arms.
It is an ending completely disowned by director Cox who had no wish to romanticize heroin or those who use it. It must come back in the same condition as it was sent. AUTHENTICATION: My name is Walter Reuben. I have been collecting movie posters since 1978. I have been a full-time dealer since 1982.
Everything which I sell is fully researched and entirely guaranteed to be completely authentic and as described. A lifetime of experience goes behind every description of every piece which I offer. ABOUT ME: For further information, go to the ABOUT ME. This item is in the category "Entertainment Memorabilia\Movie Memorabilia\Scripts\Originals\Unsigned".
The seller is "walterfilmusa" and is located in this country: US. This item can be shipped worldwide.
Industry: Movies
Signed: No
Object Type: Script
Original/Reproduction: Original
Country/Region of Manufacture: United States
Modified Item: No