SORCERER (ca. 1975) Vintage original film script for Georges Arnaud adaptation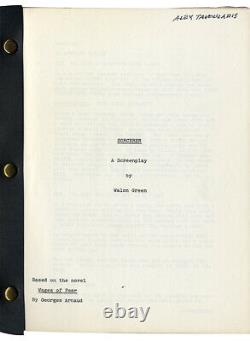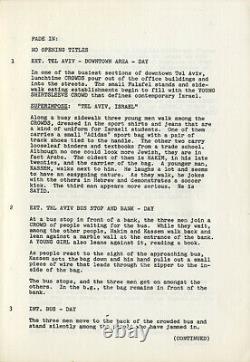 Vintage original film script by Walon Green, based on the novel The Wages of Fear by Georges Arnaud. Quarto, mimeograph, plain stiff wrappers, 200 pp. Wear to edges of blank wrappers, title labeled in ink on spine, FINE in VERY GOOD+ wrappers.
Script belonged to art director Alex Tavoularis, who has had a distinguished career but does not seem to have actually worked on this film. Walon Green was born in Baltimore, MD, on December 15, 1936, and graduated from producing and writing National Geographic Specials to writing the story and screenplay of Sam Peckinpah's THE WILD BUNCH (1969) and directing the Oscar-winning insect documentary, THE HELLSTROM CHRONICLE (1972). Producer/director William Friedkin, a fan of the Peckinpah film, chose Green to adapt "The Wages of Fear" to the screen as SORCERER (the name of one of the trucks featured in the story), and later hired him to write the screenplay of THE BRINK'S JOB (Friedkin, 1978). Apart from his film work, Green is best known for writing and producing episodes of the TV series, HILL STREET BLUES, LAW & ORDER, ER, and NYPD BLUE. Georges Arnaud's novel had previously been adapted to the screen by French director Henri-Georges Clouzot as THE WAGES OF FEAR (Le Salaire de la peur, 1953), a film that director Friedkin greatly admired - although the novelist, Arnaud, despised it!
Friedkin claims his movie was not a remake of the French movie, but a direct adaptation of Arnaud's novel with reimagined protagonists. Nonetheless, it is dedicated to Clouzot. There are four main characters - each of them conceived as an anti-hero and outcast. Lou (Roy Scheider), renamed Jackie in the movie, is an American mobster/getaway car driver, hiding from a crime boss who wants to execute him. Manzano (Bruno Cremer) is a former French investment banker, accused of financial crimes. Diego (Francisco Rabal), renamed Nilo in the movie, is a professional assassin working out of Mexico. Kassem (Amidou) is an Arab terrorist and bomber. All four are hiding out in a remote South American village when they are offered the highly paying opportunity to transport cargoes of poorly stored dynamite, so unstable that it is leaking its basic ingredient, nitroglycerin. The suspenseful heart of the story is the characters' attempt to drive their dynamite-bearing trucks through dangerous jungle territory without blowing up in the process.
The tone of the screenplay and film is grim and desperate. According to screenwriter Green: We wanted a cynical movie where fate turns the corner for the people before they turn it themselves. We set out also to write a real movie about what we thought was the reality of Latin America and the presence of foreigners there today. (As quoted in Hurricane Billy: The Stormy Life And Times Of William Friedkin by Nat Segaloff).
According to producer/director Friedkin, he wanted to do something down and dirty, an existential thriller, something along the lines of one of my favorite films, [John Huston's] THE TREASURE OF THE SIERRA MADRE.... I felt then and still do that SORCERER is the best film I've made. Walon Green's screenplay is heavy on description, almost novelistic in character (hence its unusual length), but light on dialogue. The resultant film, even leaner than this particular screenplay draft, has so little dialogue that it borders on the abstract, permitting director Friedkin to tell most of his story by way of actions and images. More than 16 minutes pass from the film's opening shot to its first word of spoken English. As in Friedkin's 1973 horror classic, THE EXORCIST, there is a long prologue before we get to the main story. In the case of SORCERER, the prologue serves to provide a backstory for each of the four protagonists.
The screenplay begins with Kassem and his terrorist comrades setting off a bomb in Tel Aviv, followed by a sequence of Manzon living the good life in Paris until his financial fraud is discovered, followed by a sequence where Lou and his cronies successfully rob a Catholic church in Elizabeth, New Jersey, but botch the getaway, with Lou the only survivor. The film rethinks and rearranges the screenplay's prologue. Instead of starting with Kassem the young terrorist in Israel, it begins with a sequence set in Vera Cruz, Mexico, introducing us to Nilo the assassin (who does not get a prologue sequence in the screenplay).
The second sequence is still Manzon in Paris, more or less as written. The third sequence is now Kassem in Jerusalem (instead of Tel Aviv). The fourth sequence is Lou in Elizabeth, New Jersey, again more or less as written. Only after all of this does the South American portion of the story begin.
There is a not-so-veiled critique of American imperialism. Everyone in this poverty-stricken dead end of a South American town is either working for the American oil company or providing food and accommodations to its laborers.
Our four protagonists do not begin their perilous truck drive until page 119 of the screenplay, more than halfway through the movie. The most memorable set piece involves the attempts of the two trucks and their drivers to cross a chasm on a rickety swaying rope bridge during the course of a heavy thunderstorm. The various ordeals experienced by the men are essentially the secular equivalents of the Stations of the Cross. There is one significant change from the screenplay to the completed film.
In the screenplay draft, Lou, the only survivor of the four men, finally succeeds in driving his truck all the way to its destination. In the movie, Lou's truck runs out of gas about a mile and a half from the town, and exhausted Lou has to carry a crate of dynamite on his back from the truck to the town, where it is desperately needed to stop a burning oil well. However, there is no lasting reward for heroic Lou. A typically ambiguous Friedkin ending shows an anonymous hitman arriving in town shortly after Lou does, his target most likely.
It must come back in the same condition as it was sent. AUTHENTICATION: My name is Walter Reuben. I have been collecting movie posters since 1978. I have been a full-time dealer since 1982. Everything which I sell is fully researched and entirely guaranteed to be completely authentic and as described.
A lifetime of experience goes behind every description of every piece which I offer. ABOUT ME: For further information, go to the ABOUT ME.
This item is in the category "Entertainment Memorabilia\Movie Memorabilia\Scripts\Originals\Unsigned". The seller is "walterfilmusa" and is located in this country: US. This item can be shipped worldwide.
Format: Film script
Writer(s): Walon Green
Modified Item: No
Country/Region of Manufacture: United States
Source: Georges Arnaud
Director: William Friedkin
Condition / Grading: Fine