Dick Richards DEATH VALLEY Original screenplay for the 1982 film 1980 #147426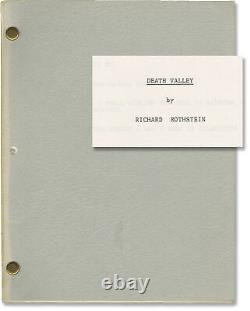 Death Valley (Original screenplay for the 1982 film). Author: Dick Richards (director); Richard Rothstein (screenwriter); Paul Le Mat, Catherine Hicks, Stephen McHattie, Wilford Brimly (starring) Title: Death Valley (Original screenplay for the 1982 film) Publication: N. Description: Draft script for the 1982 film. Title page contains "#40" written in holograph pencil on the upper right, likely a copy number, as well as several pages with annotations, again in holograph pencil, commenting, circling and striking scenes, action and dialogue. From the estate of film producer Elliott Kastner, whose best known credits include "The Long Goodbye" (Robert Altman, 1973), "The Missouri Breaks" (Arthur Penn, 1976), and "Heat" (Michael Mann, 1996). A year before Peter Billingsley would become the familiar face of Ralphie Parker in Bob Clark's 1983 "A Christmas Story, " he was Billy, a child coping with his parent's recent divorce, flying to California with his mom, Sally (Catherine Hicks), to meet her high school sweetheart, Mike (Paul Le Mat), for a vacation in Death Valley. It isn't long before Billy comes across a killer's crime scene, leading the killer to them, and it is up to little Billy to outsmart him. Set in Death Valley, California and New York, shot on location in California, Arizona and New York. Title page present, dated October 28, 1980, with credits for screenwriter Richard Rothstein. 111 leaves, with last page of text numbered 110. Pages Near Fine, wrapper Near Fine, bound with two gold brads.
Subject: 1980s Cinema, Exploitation, Film Scripts, Horror, Mystery and Crime. Royal Books is located in the midtown area of Baltimore, Maryland. Since 1996, we have specialized in rare books and paper relating to twentieth century literature, genre fiction, the arts, and popular culture, with a particular emphasis on cinema. All books noted as First Editions are also First Printings unless indicated otherwise. This listing was created by Bibliopolis.