Harold Becker TAPS Original screenplay for the 1981 film 1980 #154601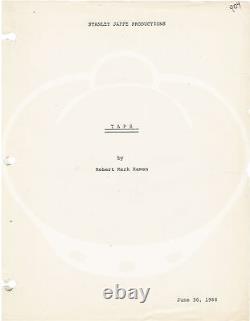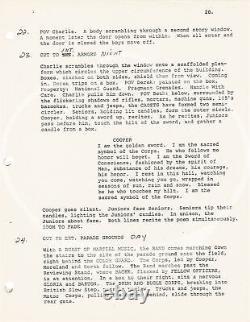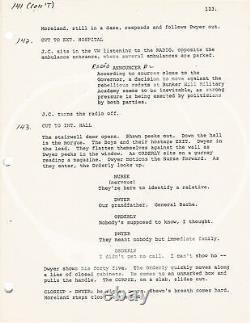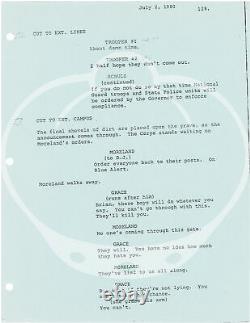 Taps (Original screenplay for the 1981 film). Author: Harold Becker (director); Devery Freeman (novel); Darryl Ponicsan, Robert Mark Kamen (screenwriters); George C.
Scott, Timothy Hutton, Ronny Cox, Sean Penn, Tom Cruise (starring) Title: Taps (Original screenplay for the 1981 film) Publication: N. Description: Draft script for the 1981 film, an internally duplicated copy with copied holes, made during production, with three blue revision pages without copied holes. Copied annotations on every page of scene numbers, supporting character numbers i.
"Parent #2", and noting "Day" or "Night" on some scenes. Based on the 1979 novel "Father Sky" by Devery Freeman. Sean Penn's film debut and Tom Cruise's first major role. Set at the fictional Bunker Hill Military Academy, shot on location in Wayne, Valley Forge, and Philadelphia, Pennsylvania. Untitled olive "Stanley Jaffe Production" wrappers. Title page present, dated June 30, 1980, with credits for screenwriter Robert Mark Kamen. 135 leaves, with last page of text numbered 134. Xerographic duplication, rectos only, with blue revision pages 127, 128, and 134, dated July 2, 1980.
Pages Near FIne, wrapper Very Good plus, bound internally with two gold brads. Subject: 1980s Cinema, Film Scripts, Films with Literary Sources, War Film.
Royal Books is located in the midtown area of Baltimore, Maryland. Since 1996, we have specialized in rare books and paper relating to twentieth century literature, genre fiction, the arts, and popular culture, with a particular emphasis on cinema. All books noted as First Editions are also First Printings unless indicated otherwise.
This listing was created by Bibliopolis.