Joshua Logan CAMELOT Original screenplay for the 1967 film 1966 #137413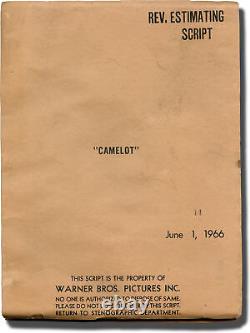 Camelot (Original screenplay for the 1967 film). Author: Joshua Logan (director); Alan Jay Lerner (screenwriter); Richard Harris, Vanessa Redgrave, Franco Nero, David Hemmings (starring) Title: Camelot (Original screenplay for the 1967 film) Publication: Burbank, CA: Warner Brothers, 1966. Description: Revised Estimating script for the 1967 film.
Winner of three Academy Awards. Based on the 1960 Broadway musical by Lerner and Loewe, winner of four Tony awards, and itself based on "The Once and Future King, " T. White's 1958 adaptation of Arthurian legends. Set in England, shot on location in Spain.
Tan titled wrappers, noted as REV. ESTIMATING SCRIPT on the front wrapper, rubber-stamped copy No. 14, dated June 1, 1966. Distribution page present, with receipt intact.
Title page present, dated 6/1/66, with credits for screenwriter-lyricist Lerner, composer Frederick Loewe, and novelist White. 148 leaves, with last page of text numbered 142.
Mimeograph on white, yellow, pink, and blue stock, dated variously between 6/1/66 and 6/7/66. Pages Near Fine, wrapper Very Good plus, bound internally with two gold brads.
Subject: 1960s Cinema, Academy Awards, Adventure, British Interest, Comedy, Film Scripts, Films with Literary Sources. Royal Books is located in the midtown area of Baltimore, Maryland.
Since 1996, we have specialized in rare books and paper relating to twentieth century literature, genre fiction, the arts, and popular culture, with a particular emphasis on cinema. All books noted as First Editions are also First Printings unless indicated otherwise.
This listing was created by Bibliopolis.