Richard Lester CUBA Original screenplay for the 1979 film #140955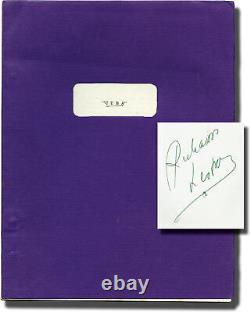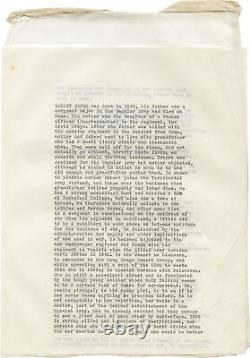 Cuba (Original screenplay for the 1979 film). Author: Richard Lester (director); Charles Wood (screenwriter); Sean Connery, Brooke Adams, Jack Weston, Hector Elizondo (starring) Title: Cuba (Original screenplay for the 1979 film) Publication: Beverly Hills, CA: United Artists, circa 1979.
Description: First Draft script for the 1979 film, SIGNED by the director Richard Lester. With three pages of synopsis laid in.
A former British major lands in Cuba to train the Cuban army to resist Castro, where he encounters an old flame who is recently brushed off by her husband. Finally a strike and the overhaul by Castro causes the British and Americans to flee, leaving his girlfriend crying and facing a new Communist government.
Set in Cuba, shot on location in Spain. Purple blank wrappers with die cut title window in the British style. Title page present, noted as a first draft screenplay, with credits for screenwriter Charles Wood. 131 leaves, with last page of text numbered 129. Pages Near Fine, wrapper Near Fine bound internally with two silver brads. Subject: 1970s Cinema, Adventure, Film Scripts, Romance, Social Justice, Radical, and Proletarian Interest. Royal Books is located in the midtown area of Baltimore, Maryland.
Since 1996, we have specialized in rare books and paper relating to twentieth century literature, genre fiction, the arts, and popular culture, with a particular emphasis on cinema. All books noted as First Editions are also First Printings unless indicated otherwise. This listing was created by Bibliopolis.