Billy Wilder BUDDY BUDDY Original screenplay for the 1981 film #145696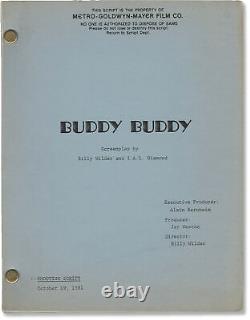 Buddy Buddy (Original screenplay for the 1981 film). Author: Billy Wilder (director, screenwriter); Francis Veber (playwright); I. Diamond (screenwriter); Jack Lemmon, Walter Matthau, Paula Prentiss, Klaus Kinski (starring) Title: Buddy Buddy (Original screenplay for the 1981 film) Publication: Beverly Hills, CA: Metro-Goldwyn-Mayer [MGM], 1981. Description: Shooting Script for the 1981 film. Based on a play by French playwright Francis Veber, and on the 1973 French-Italian film, L'emmerdeur.
" A professional killer going by the name of Trabucco (Matthau) on his way to "take care of a gangster, bumps into a forlorn man named Victor Clooney (Lemmon). Clooney's wife has left him for the head of a sex clinic, Dr. Trabucco sets up his rifle in a hotel room, ready to make the hit, but is interrupted by Clooney trying to hang himself in the adjoining room. Trabucco briefly stops Clooney from hanging, but he gets away and climbs onto the ledge of the hotel window.
When Victor finds out that his wife is filing for divorce, he again attempts suicide, the doctor and his wife following. They try to stop Victor with a sedative but stick Trabucco with the needle instead. The two men are left hopeless but Victor promises to help Trabucco with his hit. Light blue titled wrappers, noted as Shooting Script on the front wrapper, dated October 19, 1981, with credits for director-writer Wilder, writer Diamond, and producers Bernheim and Weston. Title page present with credits for screenwriters Wilder and Diamond, and for writer Veber.
Pages Fine, wrapper Fine, bound with two gold brads. Subject: 1980s Cinema, Comedy, Film Scripts, Films Based on Plays, Films with Literary Sources. Royal Books is located in the midtown area of Baltimore, Maryland.
Since 1996, we have specialized in rare books and paper relating to twentieth century literature, genre fiction, the arts, and popular culture, with a particular emphasis on cinema. All books noted as First Editions are also First Printings unless indicated otherwise. This listing was created by Bibliopolis.