THREE COINS IN THE FOUNTAIN / 1953 Movie Script Screenplay, Oscar Winning Drama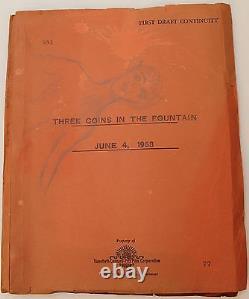 Title: Three Coins in the Fountain Actors: Clifton Webb, Dorothy McGuire & Jean Peters Production Co. Twentieth Century Fox Film Corporation Script Dated: June 4, 1953 Draft: First Draft Continuity. This is an original movie script from the movie "Three Coins in the Fountain". The front cover has a hand drawn picture as you can see from the photos above. The back cover has a round water stain mark from a cup being set down on it, it looks like they drew a face inside of the circle.
The script is in good overall condition. American girls dream of finding romance in Rome, but there is none for secretaries, Anita tells her replacement at the USDA. But Maria soon meets Prince Dino de Cessi at a party at her boss's home who invites her to fly to Venice in his private plane. Frances, who has been in Rome for 15 years as the secretary of a successful American writer who talks a lot like George Bernard Shaw and is just as elusive as Professor Henry Higgins in "My Fair Lady, " tells her at first to say "no" and then decides that together they can handle the man nicknamed the predatory prince.
Coins tossed in the Trevi Fountain can indeed work magic. Although the movie title refers to three coins only two coins are actually thrown into the fountain.
The first motion picture filmed in CinemaScope outside of the United States. Prior to beginning principal shooting, 20th Century-Fox studio execs warned producer Sol C. Siegel and director Jean Negulesco that they would have a difficult time with the new film format away from the controlled settings of the studio. Siegel and Negulesco solved this dilemma by simply taking the studio's entire technical crew along to Rome. POSTER IS NOT INCLUDED, IT IS JUST BEING USED AS A VISUAL REFERENCE.
Specializes in rare and collectible movie scripts. Our scripts are genuine, authentic and screen used. We also carry movie props from no genre in particular. Furthermore, all of our items that are not props or scripts can be found in our Other Memorabilia category.
We do not sell reproductions or fakes. We have one of the largest collections of original movie screenplays in the world. We also carry scripts used in Television, Broadway, Radio and other forms of entertainment. Every script that we own was hand-picked one at a time over the many years of which we have been collecting.
A lot of people, new to collecting, are confused about the word Original. " In terms of movie scripts, the term "Original means that it was used by the production company in the early stages of production or that it was issued out to the cast and crew members during filming, and used at the time of production.
Any scripts printed or used in any fashion after filming has completed are known as either a reproduction or a post-production script. These two types of scripts are much less valuable and desirable.
All of our scripts are Original.. An original movie script has a lot of character in the item itself and every one of them is different in some way or another. There is usually only one script given to each crew member during production, however, sometimes they do get more than one. This makes original movie scripts very desirable because of how scarce they are.
Any changes made to the screenplay during production are known as revisions and these revision pages are inserted into that one script that was issued out to them. For example, if we are talking about a low-budget film with a small cast and only a few crew members, there are actually only a small number of scripts in existence around the world for that film.
This aspect of collecting makes it fun but also difficult because there may be a certain writer or director that you love to collect and there may only be a handful of movie scripts that still exist from that specific film that you are looking for. We have some of the rarest movie scripts in the world. Each film project has a different total number of scripts that are issued. The older a film is you also have to figure in the fact that a lot of the original movie scripts have been thrown out or destroyed over time. We do our best to provide the widest selection of original movie scripts in the world.
Whatever actor, producer, director, writer or specific film department you are looking for, we probably have a movie script related to the person you are looking for in some form or fashion. I know that there are a lot of items to search through, but there is definitely something for you. Once you check off this little box it will allow you to search for a specific word that is contained in any of our listings' actual description. Here all of the original movie scripts will be categorized by decade, which will help you to narrow down what you are looking for by the year it was made. This item is in the category "Entertainment Memorabilia\Movie Memorabilia\Scripts\Originals\Unsigned". The seller is "themoviewizard" and is located in this country: US.
This item can be shipped to United States, Denmark, Ireland, Netherlands, Slovakia, Slovenia, Lithuania, Portugal, Malta, United Kingdom, Cyprus, Australia, Austria, Hungary, Sweden, Spain, Estonia, Belgium, Finland, Bulgaria, Poland, Luxembourg, Czech Republic, Canada, France, Germany, Latvia, Italy, Greece, Romania.