Alfred Hitchcock PARADINE CASE Original screenplay for the 1947 film #135979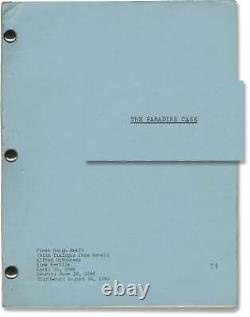 The Paradine Case (Original screenplay for the 1947 film). Author: Alfred Hitchcock (director); Robert Hitchens (novel); Lewis Waller, Alma Reville (screenwriter); Gregory Peck, Charles Laughton (starring) Title: The Paradine Case (Original screenplay for the 1947 film) Publication: Los Angeles: Vanguard Films, 1946. Description: First Rough Draft script for the 1947 film. Based on the 1933 novel by Robert Hitchens, this script dates from the time of the film's production, after having been shelved for over ten years. With credits on the front wrapper for both Alfred Hitchcock and Alma Reville. Blue titled wrappers, noted as rubber stamped copy No.
74, dated April 16, 1946, Re-run: June 12, 1946, Third-Run: August 12, 1946, with credits for director Hitchcock and screenwriter Reville. Distribution page present, with receipt removed.
Pages and wrapper Near Fine, bound with three silver brads. Wrappers now encased in protective mylar. Subject: 1940s Cinema, Directors, Film Scripts, Mystery and Crime. Royal Books is located in the midtown area of Baltimore, Maryland. Since 1996, we have specialized in rare books and paper relating to twentieth century literature, genre fiction, the arts, and popular culture, with a particular emphasis on cinema. All books noted as First Editions are also First Printings unless indicated otherwise. This listing was created by Bibliopolis.