Don Siegel TELEFON Original screenplay for the 1976 film #149181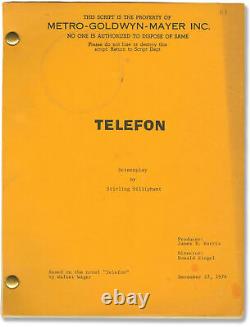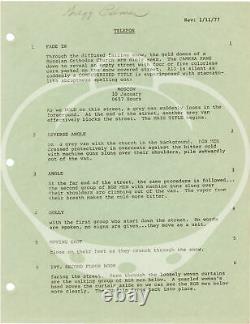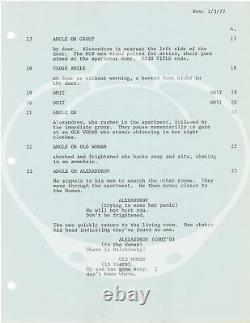 Telefon (Original screenplay for the 1976 film). Author: Don Siegel (director); Charles Bronson (starring); Walter Wager (novel); Peter Hyams, Stirling Silliphant (screenwriters); Lee Remick, Donald Pleasence (starring) Title: Telefon (Original screenplay for the 1976 film) Publication: Culver City, CA: Metro-Goldwyn-Mayer [MGM], 1976. Description: Draft script for the 1976 neo-noir film. Copy belonging to an unknown cast or crew member, with their name in holograph pencil to the first revision page.
Laid in with the script are several production documents, including a 17-page typed shooting schedule dated 12/29/76, a revised shooting schedule on pink stock dated 2/6/77, and a three-page crew contact sheet. Based on the 1975 novel.
A seasoned KGB clerk heads to America with a top-secret book which details the whereabouts of 51 brainwashed sleeper agents Russia had planted in the US years earlier during the Cold War, intending to "activate" the agents, who will destroy the US government and begin a new war between the USSR and the US. When the Kremlin realize the clerk's plans, they must send two KGB officers to stop him before he begins World War III. One of director Don Siegel's final films before his retirement in the 1980s. Set in the US and Russia, and shot on location in California, Colorado, Virginia, Montana, and Finland.
Goldenrod titled front wrapper, lacking rear wrapper, dated December 27, 1976, rubber-stamped copy No. 61 with credits for director Donald Siegel, screenwriter Stirling Silliphant, and novelist Walter Wager. Title page present, dated December 27, 1976, with credits for screenwriter STIRLING SILLIPHANT. 134 leaves, with last page of text numbered 127. Xerographic duplication, rectos only, with blue and green revision pages throughout, dated variously between 1/3/77 and 1/11/77.
Pages Near Fine, wrapper Very Good plus, with a light ring stain on the front wrapper, bound with two gold brads. Subject: 1970s Cinema, Action Film, Cold War, Espionage, Film Scripts, Films with Literary Sources. Royal Books is located in the midtown area of Baltimore, Maryland. Since 1996, we have specialized in rare books and paper relating to twentieth century literature, genre fiction, the arts, and popular culture, with a particular emphasis on cinema.
All books noted as First Editions are also First Printings unless indicated otherwise. This listing was created by Bibliopolis.