Frank Lloyd BERKELEY SQUARE Original screenplay for the 1933 film #140139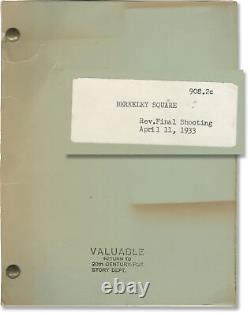 Berkeley Square (Original screenplay for the 1933 film). Author: Frank Lloyd (director); Sonya Levien (screenwriter); John L. Balderston (playwright, screenwriter); Leslie Howard, Heather Angel, Valerie Taylor, Irene Brown (starring) Title: Berkeley Square (Original screenplay for the 1933 film) Publication: Los Angeles: Fox Film, 1933.
Description: Revised Shooting Final script for the 1933 film. Based on the Broadway play by John L. Balderston, an American (Howard) sails to England to marry his cousin, follow the American victory in the war of independence. This film was believed lost until it was rediscovered in the 1970s. Nominated for one Academy Award for Best Actor.
Green titled wrappers, noted as Revised Shooting Final on the front wrapper, dated April 11, 1933. Title page present, noted as Final Revised Shooting Script, with credits for playwright John L. Balderston, screenwriters Sonya Levien, and John L. Balderston, chief camerman Ernest Palmer, sound engineer Joseph E. Aiken, art director William Darling, dialogue director George Hadden, wardrobe William Lambert, film editor Margaret Clancy, technical advisor Lance Baxter, assistant director William Tummel, and director Frank Lloyd.
134 leaves, with last page of text numbered 131. Pages Near Fine, wrapper Very Good plus bound with two gold brads. Subject: 1930s Cinema, Academy Awards, British Interest, Fantasy, Film Scripts, Films Based on Plays, Films with Literary Sources, Pre-Code Film, Romance, War Film, Women Screenwriters. Royal Books is located in the midtown area of Baltimore, Maryland. Since 1996, we have specialized in rare books and paper relating to twentieth century literature, genre fiction, the arts, and popular culture, with a particular emphasis on cinema. All books noted as First Editions are also First Printings unless indicated otherwise. This listing was created by Bibliopolis.