SCARCE 1916 THE CHARLIE CHAPLIN BOOK 1st written about worlds biggest star withPX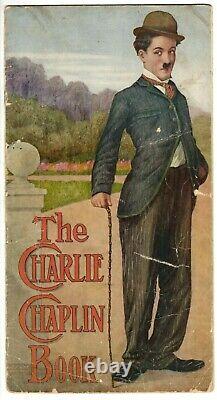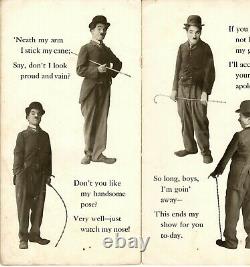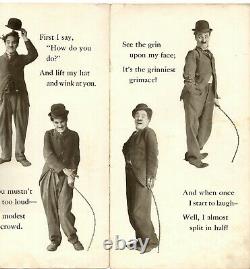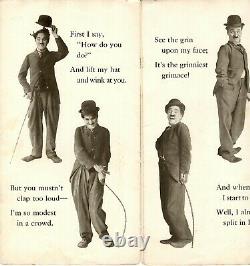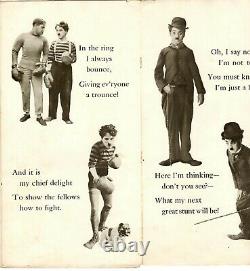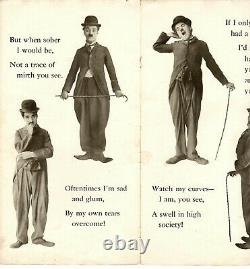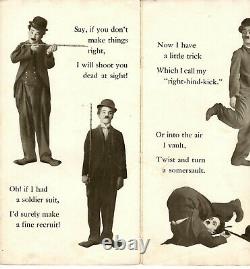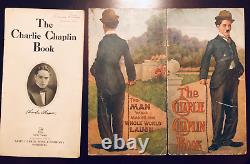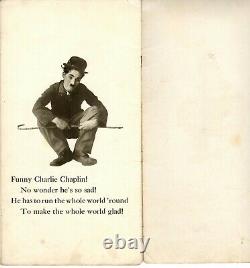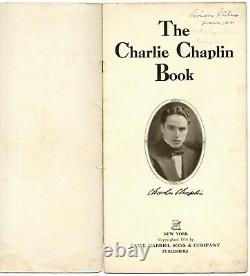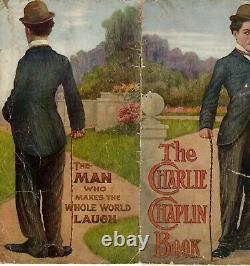 It looks much better than the picture above. SCARCE 1916 THE CHARLIE CHAPLIN BOOK, 1st written about worlds biggest star! W/21 Pix The Man Who Makes The Whole World Laugh Just try and find a comparable... This is a true museum piece.
PLEASE BE PATIENT WHILE ALL PICTURES LOAD After checking out this item please look at my other unique silent motion picture memorabilia and Hollywood film collectibles! Great reference book on early classic film with years of unique research between these covers. The first book on Chaplin, and a must-have for the Chaplin collector. A title widely held to be the FIRST published book on Chaplin. Features 21 monochromatic images of the tramp doing his antics.
The full- color covers show him facing forward in front, followed by a back view on the rear cover. Softcover: 12 pages Publisher: SAM'L GABRIEL SON & CO. Photos of Chaplin as the little tramp, with captions, in the text.
These rarely become available and when the do, they sell for hundreds! This book is in GOOD condition, (SEE PIX) is has been enjoyed and looked at countless times, it is well loved. The front cover shows several faint creases over the years (also the back cover), bumping to the edges, patina (hand dirt) throughout and separation at the fold in the spine for more than half the length.
On the first/title page there are two personal dedications from previous owners in 1916 just over 100 years ago! It in fine shape for reading, research or study just not pristine. A fine, readable copy that would make a charming gift to a fan of any of these films and or stars.
All of my items are unconditionally guaranteed. This is Larry41, wishing you great movie memories and good luck. BACKGROUND: Considered to be one of the most pivotal stars of the early days of Hollywood, Charlie Chaplin lived an interesting life both in his films and behind the camera. He is most recognized as an icon of the silent film era, often associated with his popular character, the Little Tramp; the man with the toothbrush mustache, bowler hat, bamboo cane, and a funny walk.
Charles Spencer Chaplin was born in Walworth, London, England on April 16, 1889, to Hannah Harriet Pedlingham (Hill) and Charles Chaplin, both music hall performers, who were married on June 22, 1885. Separated from Hannah to perform in New York City, Hannah then tried to resurrect her stage career. Unfortunately, her singing voice had a tendency to break at unexpected moments.
When this happened, the stage manager spotted young Charlie standing in the wings and led him on stage, where five-year-old Charlie began to sing a popular tune. Charlie and his half-brother, Syd Chaplin spent their lives in and out of charity homes and workhouses between their mother's bouts of insanity. Hannah was committed to Cane Hill Asylum in May 1903 and lived there until 1921, when Chaplin moved her to California. Chaplin began his official acting career at the age of eight, touring with the Eight Lancashire Lads. At age 18, he began touring with Fred Karno's vaudeville troupe, joining them on the troupe's 1910 United States tour. He traveled west to California in December 1913 and signed on with Keystone Studios' popular comedy director Mack Sennett, who had seen Chaplin perform on stage in New York. Charlie soon wrote his brother Syd, asking him to become his manager. While at Keystone, Chaplin appeared in and directed 35 films, starring as the Little Tramp in nearly all. In November 1914, he left Keystone and signed on at Essanay, where he made 15 films. In 1916, he signed on at Mutual and made 12 films. In June 1917, Chaplin signed up with First National Studios, after which he built Chaplin Studios. In 1919, he and Douglas Fairbanks, Mary Pickford and D.
Griffith formed United Artists (UA). Chaplin's life and career was full of scandal and controversy.
His first big scandal was during World War I, during which time his loyalty to England, his home country, was questioned. He had never applied for American citizenship, but claimed that he was a "paying visitor" to the United States. Many British citizens called Chaplin a coward and a slacker. This and his other career eccentricities sparked suspicion with FBI chief J.
Edgar Hoover and the House Un-American Activities Committee (HUAC), who believed that he was injecting Communist propaganda into his films. Chaplin's later film The Great Dictator (1940), which was his first "talkie", also created a stir. In the film, Chaplin plays a humorous caricature of Adolf Hitler. Some thought the film was poorly done and in bad taste. Another scandal occurred when Chaplin briefly dated 22-year-old Joan Barry.
However, Chaplin's relationship with Barry came to an end in 1942, after a series of harassing actions from her. Chaplin was also scrutinized for his support in aiding the Russian struggle against the invading Nazis during World War II, and the United States government questioned his moral and political views, suspecting him of having Communist ties. For this reason, HUAC subpoenaed him in 1947.
However, HUAC finally decided that it was no longer necessary for him to appear for testimony. Conversely, when Chaplin and his family traveled to London for the premier of Limelight (1952), he was denied re-entry to the United States. In reality, the government had almost no evidence to prove that he was a threat to national security. Instead, he and his wife decided to settle in Switzerland.
Chaplin was married four times and had a total of 11 children. In 1918, he married Mildred Harris and they had a son together, Norman Spencer Chaplin, who only lived three days. Chaplin and Mildred were divorced in 1920. He married Lita Grey in 1924, who had two sons, Charles Chaplin Jr. They were divorced in 1927.
In 1936, Chaplin married Paulette Goddard and his final marriage was to Oona O'Neill (Oona Chaplin), daughter of playwright Eugene O'Neill in 1943. Oona gave birth to eight children: Geraldine Chaplin, Michael Chaplin, Josephine Chaplin, Victoria Chaplin, Eugene Chaplin, Jane Chaplin, Annette-Emilie Chaplin and Christopher Chaplin.
In contrast to many of his boisterous characters, Chaplin was a quiet man who kept to himself a great deal. He also had an "un-millionaire" way of living. Even after he had accumulated millions, he continued to live in shabby accommodations. In 1921, Chaplin was decorated by the French government for his outstanding work as a filmmaker, and was elevated to the rank of Officer of the Legion of Honor in 1952. In 1972, he was honored with an Academy Award for his incalculable effect in making motion pictures the art form of the century. He was appointed Knight Commander of the Order of the British Empire in the 1975 New Years Honours List. No formal reason for the honour was listed. The citation simply reads "Charles Spencer Chaplin, Film Actor and Producer". Chaplin's other works included musical scores he composed for many of his films. He also authored two autobiographical books, "My Autobiography" (1964) and its companion volume, "My Life in Pictures" (1974). Chaplin died at age 88 of natural causes on December 25, 1977 at his home in Vevey, Switzerland. His funeral was a small and private Anglican ceremony according to his wishes. In 1978, Chaplin's corpse was stolen from its grave and was not recovered for three months; he was re-buried in a vault surrounded by cement. Six of Chaplin's films have been selected for preservation in the National Film Registry by the United States Library of Congress: The Immigrant (1917), The Kid (1921), The Gold Rush (1925), City Lights (1931), Modern Times (1936) and The Great Dictator (1940). Charlie Chaplin was considered one of the greatest filmmakers in the history of American cinema, whose movies were and still are popular throughout the world, and have even gained notoriety as time progresses.
His films show, through the Little Tramp's positive outlook on life in a world full of chaos, that the human spirit has and always will remain the same. The item "SCARCE 1916 THE CHARLIE CHAPLIN BOOK 1st written about worlds biggest star withPX" is in sale since Wednesday, September 30, 2020.
This item is in the category "Books\Antiquarian & Collectible". The seller is "larry41" and is located in Culpeper, Virginia. This item can be shipped worldwide.
Year Printed: 1916
Country/Region of Manufacture: United States
Topic: Movie
Subject: Performing Arts
Original/Facsimile: Original
Language: English
Publisher: SAM'L GABRIEL SON & CO
Special Attributes: 1st Edition