Signed DAVID LEAN AUTOGRAPH, Ryan's Daughter Movie Program, BOOK, COA UACC DVD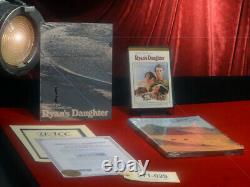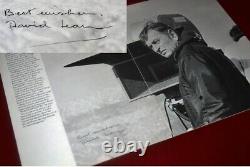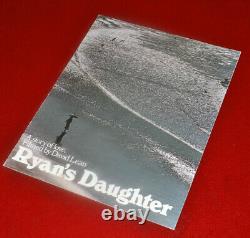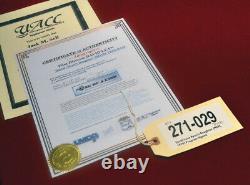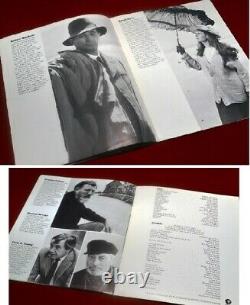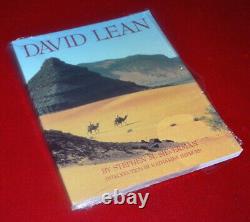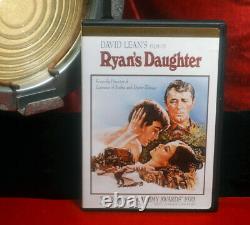 Autographed PHOTO signed by the famous. Of such famous motion pictures as "BRIDGE OVER THE RIVER KWAI, " "RYAN'S DAUGHTER, " "LAWRENCE OF ARABIA, " DR. ZHIVAGO, & many other great films!
A Great MOTION PICTURE Director... This Collection includes an Original Rare "RYAN'S DAUGHTER" Movie Program Signed by the Legendary DIRECTOR & Oscar Winner DAVID LEAN with the original Certificate of Authenticity (COA) from UACC Registered Dealer #228, along with a sealed BOOK about Sir DAVID LEAN, his life and all the amazing movies he directed in his career + a factory sealed 2 Disc DVD of this great film "RYAN'S DAUGTHER".
As a TV & Movie DIRECTOR and a lifetime member of the Director's Guild of America, D. This Oscar Winning DIRECTOR and this great MOTION PICTURE, "Ryan's Daughter" have been a favorite of million of fans worldwide!!
This ORIGINAL Autographed "Ryan's Daughter" Movie Program is signed by Oscar Winning Director DAVID LEAN.. And includes this Original COA (Certificate of Authenticity) from UACC Registered Dealer #228. David signed in black ink inside this movie program, in very good condition. Inside the Rare Program Names, Pictures and Bios of the Stars and David Lean's production team.. This very RARE Autographed DISPLAY is just ready to display in your Home, Office, Media Room or Museum! You also receive this 2 Disc special edition DVD of this classic Award Winning MOTION PICTURE, Ryan's Daughter. An important British filmmaker, David Lean was born in Croydon on March 25, 1908 and brought up in a strict Quaker family (ironically, as a child he wasn't allowed to go to the movies). During the 1920s, he briefly considered the possibility of becoming an accountant like his father before finding a job at Gaumont British Studios in 1927. He worked as tea boy, clapper boy, messenger, then cutting room assistant.
By 1935, he had become chief editor of Gaumont British News until in 1939 when he began to edit feature films, notably for Anthony Asquith, Paul Czinner and Michael Powell. Amongst films he worked on were Pygmalion (1938), Major Barbara (1941) and One of Our Aircraft Is Missing (1942).
By the end of the 1930s, Lean's reputation as an editor was very well established. In 1942, Noël Coward gave Lean the chance to co-direct with him the war film In Which We Serve (1942). Shortly after, with the encouragement of Coward, Lean, cinematographer Ronald Neame and producer'Anthony Havelock-Allan' launched a production company called Cineguild. For that firm Lean first directed adaptations of three plays by Coward: the chronicle This Happy Breed (1944), the humorous ghost story Blithe Spirit (1945) and, most notably, the sentimental drama Brief Encounter (1945). Originally a box-office failure in England, "Brief Encounter" was presented at the very first Cannes film festival (1946), where it won almost unanimous praises as well as a Grand Prize.
From Coward, Lean switched to Charles Dickens, directing two well-regarded adaptations: Great Expectations (1946) and Oliver Twist (1948). The latter, starring Alec Guinness in his first major movie role, was criticized by some, however, for potential anti-Semitic inflections. The last two films made under the Cineguild banner were The Passionate Friends (1949), a romance from a novel by H. Wells, and the true crime story Madeleine (1950). Neither had a significant impact on critics or audiences.
The Cineguild partnership came to an end after a dispute between Lean and Neame. Lean's first post-Cineguild production was the aviation drama The Sound Barrier (1952), a great box-office success in England and his most spectacular movie so far.
He followed with two sophisticated comedies based on theatrical plays: Hobson's Choice (1954) and the Anglo-American co-production Summertime (1955). Both were well received and "Hobson's Choice" won the Golden Bear at the 1954 Berlin film festival. Lean's next movie was pivotal in his career, as it was the first of those grand-scale epics he would become renowned for. The Bridge on the River Kwai (1957) was produced by Sam Spiegel from a novel by'Pierre Boulle', adapted by blacklisted writers Michael Wilson and Carl Foreman.
Shot in Ceylon under extremely difficult conditions, the film was an international success and triumphed at the Oscars, winning seven awards, most notably best film and director. Lean and Spiegel followed with an even more ambitious film, Lawrence of Arabia (1962), based on "Seven Pillars of Wisdom", the autobiography of T. Starring relative newcomer Peter O'Toole, this film was the first collaboration between Lean and writer Robert Bolt, cinematographer Freddie Young and composer Maurice Jarre. The shooting itself took place in Spain, Morocco and Jordan over a period of 20 months.
Initial reviews were mixed and the film was trimmed down shortly after its world première and cut even more during a 1971 re-release. Like its predecessor, it won seven Oscars, once again including best film and director. The same team of Lean, Bolt, Young and Jarre next worked on an adaptation of Boris Pasternak's novel Dr. Zhivago for producer Carlo Ponti. Doctor Zhivago (1965) was shot in Spain and Finland, standing in for revolutionary Russia and, despite divided critics, was hugely successful, as was Jarre's musical score. The film won five Oscars out of ten nominations, but the statuettes for film and director went to The Sound of Music (1965).
Lean's next movie, the sentimental drama Ryan's Daughter (1970), did not reach the same heights. The original screenplay by Robert Bolt was produced by old associate Anthony Havelock-Allan, and Lean once again secured the collaboration of Freddie Young and Maurice Jarre. The shooting in Ireland lasted about a year, much longer than expected. The film won two Oscars; but, for the most part, critical reaction was tepid, sometimes downright derisive, and the general public didn't really respond to the movie. This relative lack of success seems to have inhibited Lean's creativity for a while.
But towards the end of the 1970s, he started to work again with Robert Bolt on an ambitious two-part movie about the Bounty mutiny. The project fell apart and was eventually recuperated by Dino De Laurentiis. Lean was then approached by producers John Brabourne and Richard Goodwin to adapt E.
Forster's novel "A Passage to India", a book Lean had been interested in for more than 20 years. For the first time in his career; Lean wrote the adaptation alone, basing himself partly on Santha Rama Rau's stage version of the book. Lean also acted as his own editor.
A Passage to India (1984) opened to mostly favourable reviews and performed quite well at the box-office. It was a strong Oscar contender, scoring 11 nominations.
It settled for two wins, losing the trophy battle to Milos Forman's Amadeus (1984). Lean spent the last few years of his life preparing an adaptation of Joseph Conrad's meditative adventure novel "Nostromo".
He also participated briefly in Richard Harris' restoration of "Lawrence of Arabia" in 1988. In 1990, Lean received the American Film Institute's Life Achievement award. He died of cancer on April 16, 1991 at age 83, shortly before the shooting of "Nostromo" was about to begin. Lean was known on sets for his extreme perfectionism and autocratic behavior, an attitude that sometimes alienated his cast or crew.
Though his cinematic approach, classic and refined, clearly belongs to a bygone era, his films have aged rather well and his influence can still be found in movies like The English Patient (1996) and Titanic (1997). In 1999, the British Film Institute compiled a list of the 100 favorite British films of the 20th century. Five by David Lean appeared in the top 30, three of them in the top five. The original AUTOGRAPH movie program and BOOK have been carefully stored in a smoke free, pet free environment until removed to put in the framed exhibit.
The condition of the Autograph is very good... Colors are bright and makes a nice overall great presentation.
If this autograph is declared not to be authentic, we may ask the purchaser to supply the full written opinion of one competent authority acceptable to us. Sell is a Registered Dealer with the U.
We are proud that some of our memorabilia is on display in the SMITHSONIAN, Washington, D. Heimdell51 Praise: Great guy; very prompt & efficient service & exc. Packaging; got a free bonus too! Austinpowheinybeer Praise: GREAT GREAT GREAT!! Toothfella Thanks for the super helmet Jack!
Hope to do business again. Jimsoden Praise: Great packing, good emails, very generous with his time and effort, class act!!! Belfast Praise: Wonderful Ebayer & with genuine COA's too! THANKS TO THE OTHER 10,000 GREAT EBAYERS WE'VE HAD THE HONOR OF WORKING WITH FOR OVER 20 YEARS.... AND, WE LOOK FORWARD TO MEETING MANY MORE GREAT EBAYERS IN THE FUTURE FROM ALL OVER THE WORLD!
This Collection includes an Original "RYAN'S DAUGHTER" Movie Program Signed by the Legendary DIRECTOR & Oscar Winner DAVID LEAN with the original Certificate of Authenticity (COA) from UACC Registered Dealer #228, along with a sealed BOOK about Sir DAVID LEAN, his life and all the amazing movies he directed in his career + a special 2 Disc edition DVD of this great film "RYAN'S DAUGTHER". A GREAT piece of HISTORY... A real "One of a Kind" Find & Conversation Pieces... Movie, Television Props & Autographs can make for a good investment as well!
A GREAT "One Of A Kind" FIND!! Oscar Winnning Director DAVID LEAN. Autographed Program of "RYAN'S DAUGHTER". The item "Signed DAVID LEAN AUTOGRAPH, Ryan's Daughter Movie Program, BOOK, COA UACC DVD" is in sale since Friday, September 11, 2020. This item is in the category "Entertainment Memorabilia\Autographs-Original\Movies\Other Orig.
The seller is "jackmsell" and is located in New Port Richey, Florida. This item can be shipped worldwide.
Movie: RYAN'S DAUGHTER
Original/Reproduction: Original
Signed by: Director DAVID LEAN
Autograph Authentication: UACC RD#228
Signed: Yes
Industry: Movies