Tim Burton EDWARD SCISSORHANDS Original screenplay for the 1990 film #160027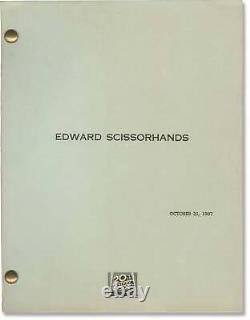 Edward Scissorhands (Original screenplay for the 1990 film). Author: Tim Burton (director); Caroline Thompson (screenwriter); Johnny Depp, Winona Ryder (starring) Title: Edward Scissorhands (Original screenplay for the 1990 film) Publication: Los Angeles: Twentieth Century-Fox, 1987. Description: First Draft script for the 1990 film. Tim Burton's second "Modern Prometheus" film, following his 1984 short "Frankenweenie, " about a mad scientist who dies before he can complete his latest creation: a nearly complete human being. The creation is left with scissors for hands, and doomed to live a life of solitude until a kindly, mild-mannered Avon lady welcomes him into her home.
Green titled Twentieth Century-Fox wrappers, dated October 21, 1987. Title page present, dated 10/21/87, noted as First Draft, with credit for screenwriter Caroline Thompson. 117 leaves, with last page of text numbered 116.
Pages about Fine, wrapper Near Fine, bound with two gold brads. Subject: 1990s Cinema, Film Scripts, Romance, Women Screenwriters. Royal Books is located in the midtown area of Baltimore, Maryland.
Since 1996, we have specialized in rare books and paper relating to twentieth century literature, genre fiction, the arts, and popular culture, with a particular emphasis on cinema. All books noted as First Editions are also First Printings unless indicated otherwise. This listing was created by Bibliopolis.