William A Seiter DESTROYER Original screenplay for the 1943 film 1942 #140238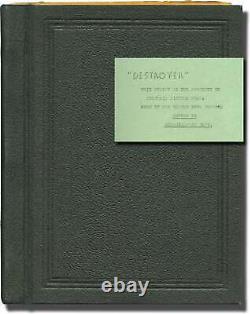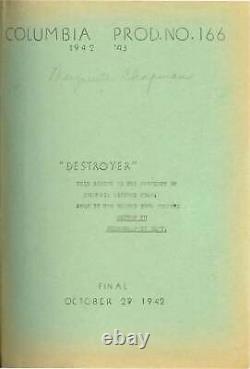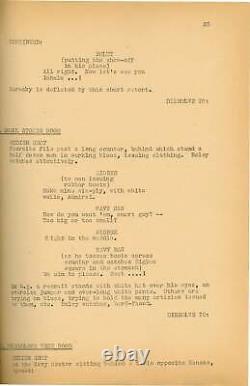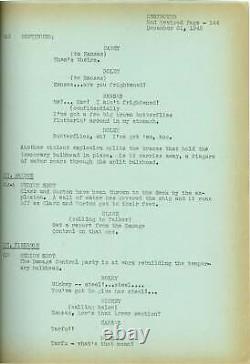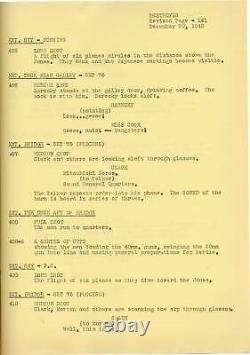 Destroyer (Original screenplay for the 1943 film). Seiter (director); Frank Wead, Lewis Meltzer, Borden Chase (screenwriters); Edward G. Robinson, Glenn Ford, Marguerite Chapman, Edgar Buchanan (starring) Title: Destroyer (Original screenplay for the 1943 film) Publication: Culver City, CA: Columbia Pictures, 1942. Description: Final Draft script for the 1943 film.
Copy belonging to actress Marguerite Chapman, who played Mary Boleslavski in the film, with her name on the front wrapper in manuscript pencil. A battleship in World War II tests very poorly in fighting tests and will not be allowed to engage in combat in the war. When it arrives, it encounters Japanese troops and is forced into a defensive position. Housed in a standard black vinyl covered spring binder. Green titled wrappers, noted as Final on the front wrapper, rubber-stamped production No.
166, dated October 29, 1942. Title page present, dated October 29, 1942, noted as Final Draft, with credits for screenwriters Lewis Meltzer, and Borden Chase. 190 leaves, with last page of text numbered 175. Mimeograph duplication, with white, blue, yellow, orange, and pink revision pages throughout, dated variously between November 11, 1942 and December 31, 1942. Pages Very Good, wrapper Very Good, spring binder Near Fine.
Subject: 1940s Cinema, Adventure, Film Scripts, US Navy, War Film, World War II. Royal Books is located in the midtown area of Baltimore, Maryland.
Since 1996, we have specialized in rare books and paper relating to twentieth century literature, genre fiction, the arts, and popular culture, with a particular emphasis on cinema. All books noted as First Editions are also First Printings unless indicated otherwise. This listing was created by Bibliopolis.