Zoltan Korda COUNTER-ATTACK Original screenplay for the 1944 film #140249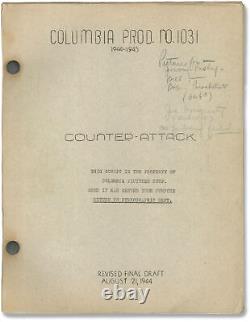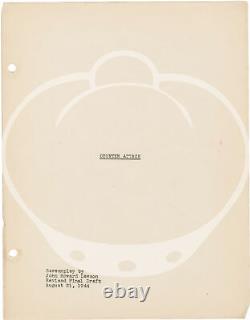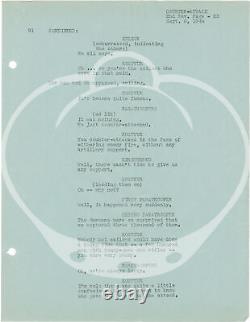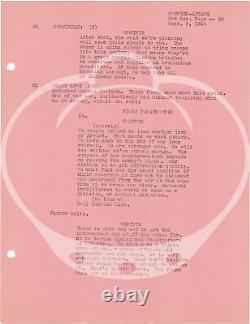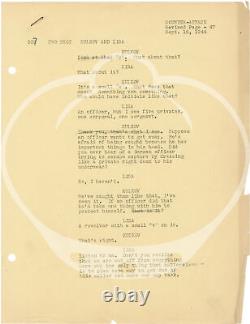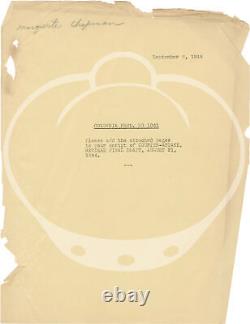 Counter-Attack (Original screenplay for the 1944 film, actress Marguerite Chapman's copy). Author: Zoltan Korda (director); John Howard Lawson (screenwriter); Mikhail Ruderman, Ilya Vershinin (playwrights); Janet Stevenson, Philip Stevenson (translators); Paul Muni, Marguerite Chapman, Larry Parks, Harro Meller (starring) Title: Counter-Attack (Original screenplay for the 1944 film, actress Marguerite Chapman's copy) Publication: Culver City, CA: Columbia Pictures, 1944. Description: Revised Final Draft script for the 1944 film. Copy belonging to Marguerite Chapman, who played Lisa Elenko in the film, with name on final page in holograph pencil and holograph pencil annotations to her scenes throughout. Missing the last few leaves, very possibly as used by the actress.
With rainbow revision pages throughout. Set on the Eastern front of World War II, a paratrooper force lands behind enemy lines and Alexei Kulkov (Muni), as well as local interpreter (Chapman) take several Germans captive in a basement, which caves in, trapping them all in the cellar. They interrogate each other and pull ploys on each other, fighting for control, while Kulkov waits to be rescued. Made during the brief friendship of the United States and the Soviet Union and based on the play "Pobyeda" (Victory) by Mikhail Ruderman and Ilya Vershinin, this film was later castigated as sympathetic to communism and several of the actors were called before the House Un-American Activities Committee and subsequently blacklisted.
Set in Eastern Europe, shot on location in California. White titled wrappers, noted as Revised Final Draft on the front wrapper, rubber-stamped production No.
1031, dated August 21, 1944. Title page present, dated August 21, 1944, noted as Revised Final Draft, with credits for screenwriter John Howard Lawson. 113 leaves, with last page of text numbered 111. Mimeograph duplication, with yellow, blue, green, and pink revision pages throughout, dated variously between August 18, 1944 and September 15, 1944. Pages Very Good, wrapper Very Good bound with two gold brads. Subject: 1940s Cinema, Film Scripts, Films Based on Plays, Films with Literary Sources, War Film, World War II. Royal Books is located in the midtown area of Baltimore, Maryland. Since 1996, we have specialized in rare books and paper relating to twentieth century literature, genre fiction, the arts, and popular culture, with a particular emphasis on cinema. All books noted as First Editions are also First Printings unless indicated otherwise. This listing was created by Bibliopolis.